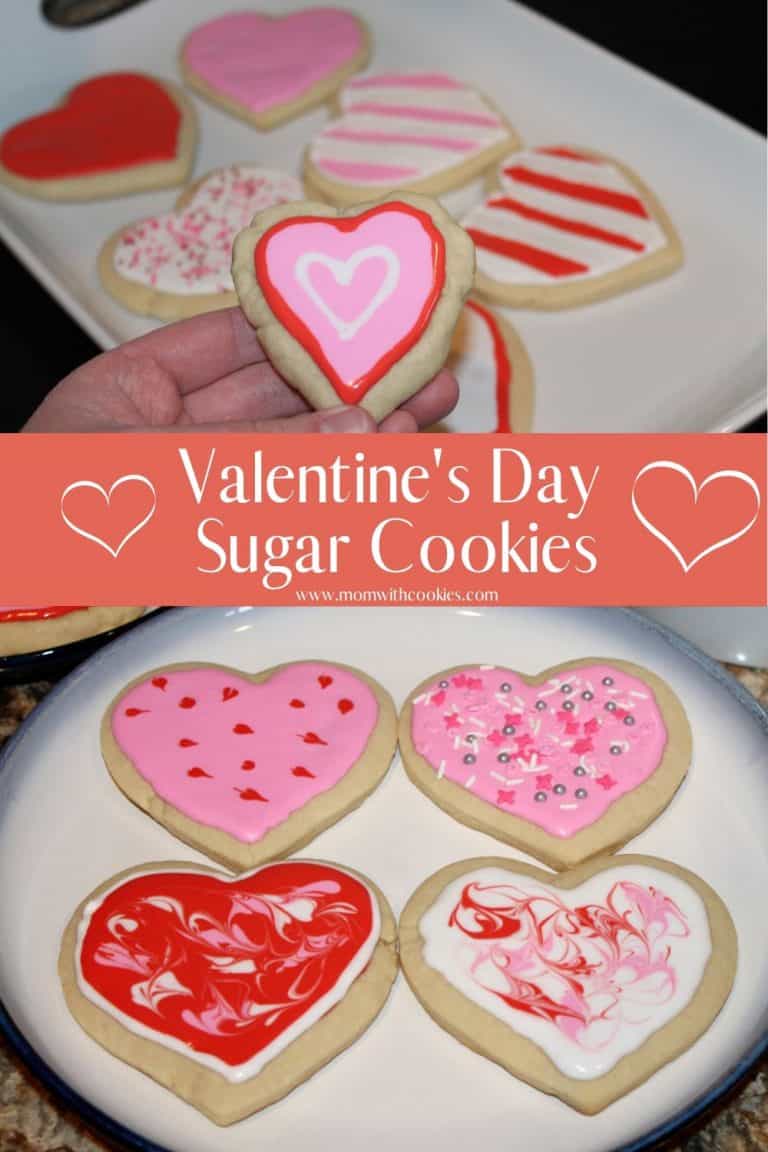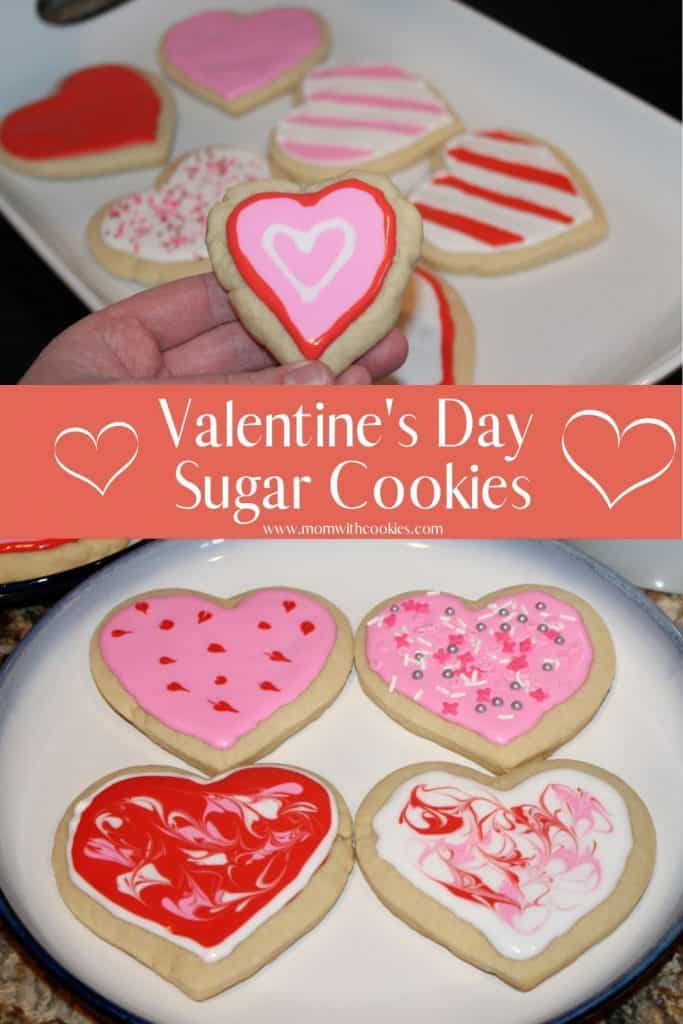 Decorating sugar cookies is always fun no matter the season. For Valentines day, we LOVE to make heart shaped cookies and decorate them with royal icing and sprinkles.
In an effort to fully disclose, this article contains affiliate links. This means if your purchase something I would receive a commission. For more information, please see my disclosure page.
We will be using royal icing for the sugar cookie decoration.
Tools you need:
​Meringue Powder (to make royal icing)
​Fun Sprinkles for Valentines Day
The first thing you will do is use my sugar cookie recipe, and it will yield you about 18 heart shaped cookies using this cookie cutter.
What's great about this recipe is that the cookies hold their shape so no wonky cookies.
The SECRET to your cookies holding their shape is to freeze them after you have cut them out. 5 minutes is plenty of time, then bake them in the oven.
Another tip is to keep your cookies in an air-tight container. This is what keeps your cookies soft and delicious.

For these striped heart cookies, you will start by outlining the cookie in white piping consistency icing. Then, you fill in alternating sections with white flooding consistency royal icing. Finally, fill in the remaining sections with pink flooding consistency royal icing.

For these cookies, you will decorate the cookie with pink icing (flooding consistency). Then, while it's still wet, add in some drops of red icing. Finally, take a toothpick and draw a line through the dots. (It helps if you clean the toothpick off each time or the little hearts will look more like spades.)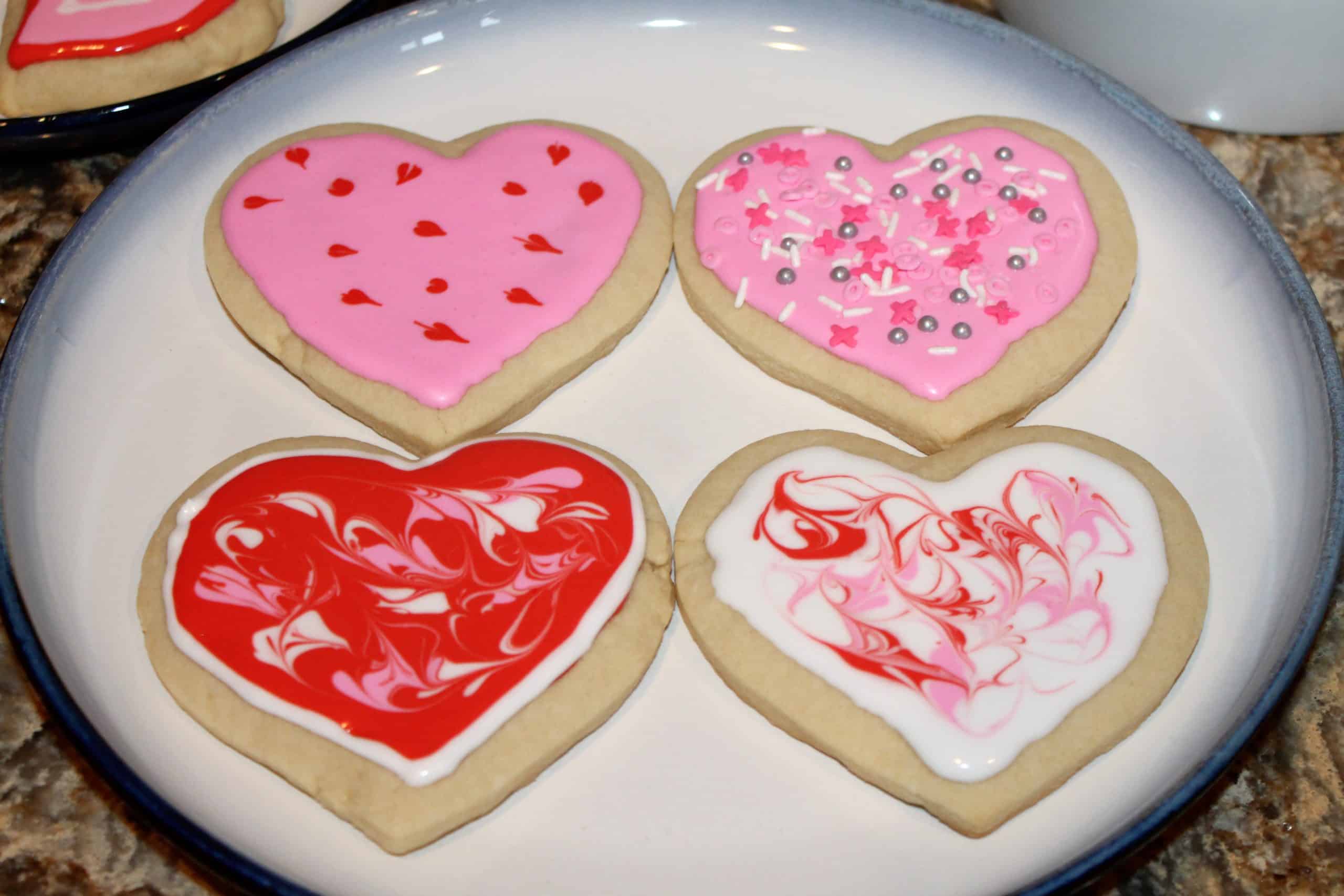 Another way to decorate these heart shaped sugar cookies is by creating a marble design with the royal icing. Start out by first filling your cookie with white or red royal icing. Then add some dots of other colors. With a toothpick, swirl the colors around. It leaves a fun marble look.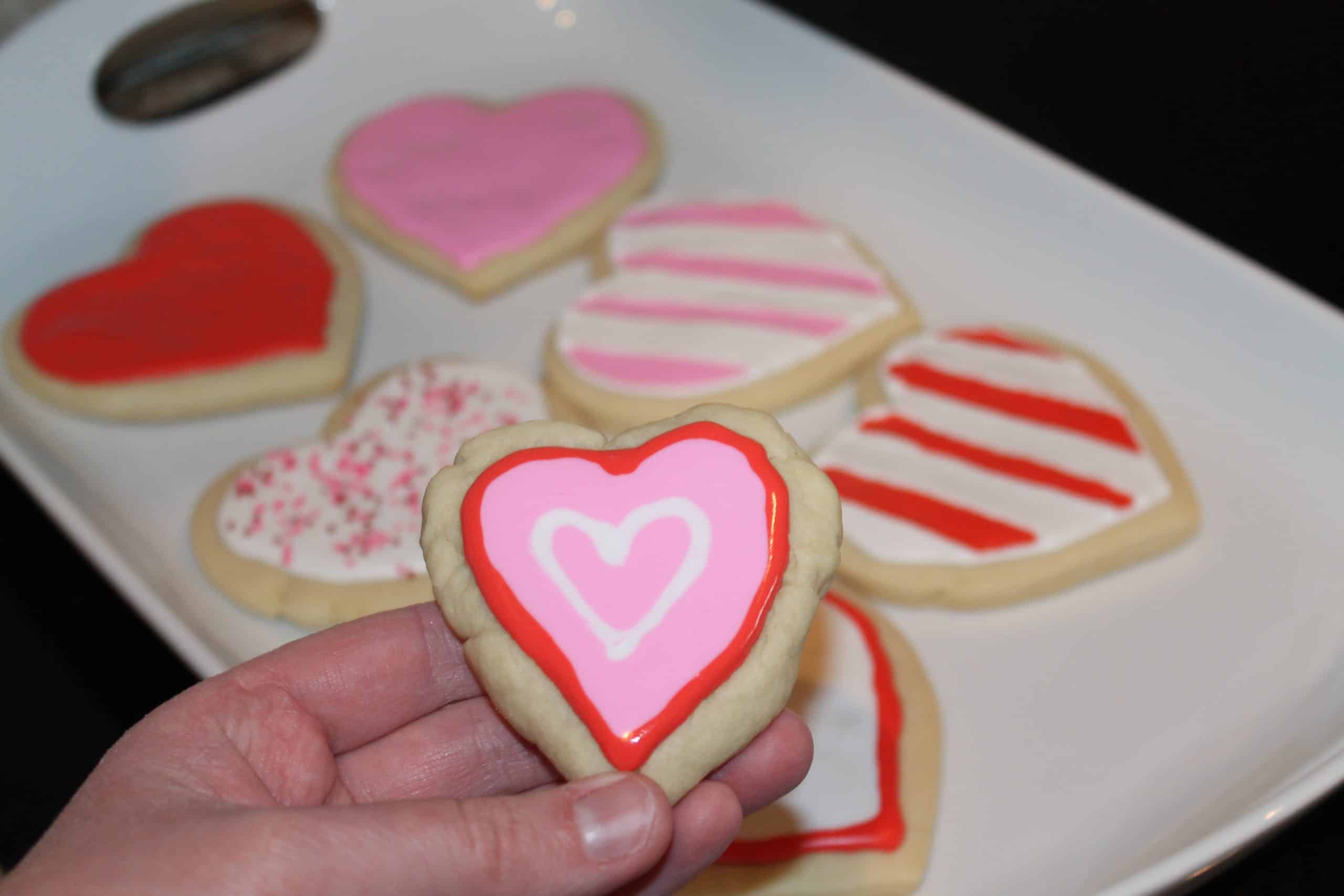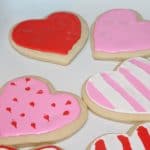 Valentine's Day Heart Sugar Cookies
These decorated Valentine's Day heart sugar cookies are so fun to make with all the different designs to choose from.
Ingredients
Ingredients:
1

cup

unsalted butter

softened

1

cup

granulated sugar

2

eggs

1

teaspoon

vanilla extract

½

teaspoon

baking soda

½

teaspoon

baking powder

3 ¼

cup

all-purpose flour

spooned and leveled
Royal Icing:
4

cups

powdered sugar

5

tablespoon

meringue powder

½

cup

water

Food Coloring

the gel kind
Instructions
Directions:
Cream butter and sugar with a mixer until smooth.

Then add eggs and vanilla. Mix well, then add the baking soda and baking powder.

Finally add flour 1 cup at a time, mixing well in between. After all the flour has been added, the dough should start to come together.

Roll the dough out ¼ inch thick and the cut out the heart cookies. Place these on a parchment paper and place them in the freezer for about 10 minutes.

Then pre-heat your oven to 375 degrees Fahrenheit. Remove the cookies from the freezer and bake for 7-9 minutes (rotating the pan half-way through).
Making the Royal Icing
In a large bowl combine the powdered sugar, meringue powder, and water. Whisk on medium high speed for 4 minutes. You want to have stiff peaks form when you lift the whisk out of the icing. (This is piping consistency.)

For flooding consistency, divide the icing into smaller bowls and add in the food coloring gel. Stir until well combined. Then, add in 1 tablespoon of water to each bowl. Mix well. (This is flooding consistency.)

Decorate your sugar cookies and then let them set out uncoverd for at least 1-2 hours. Once the royal icing is hard you can store them in an air-tight container.
Related Recipes: