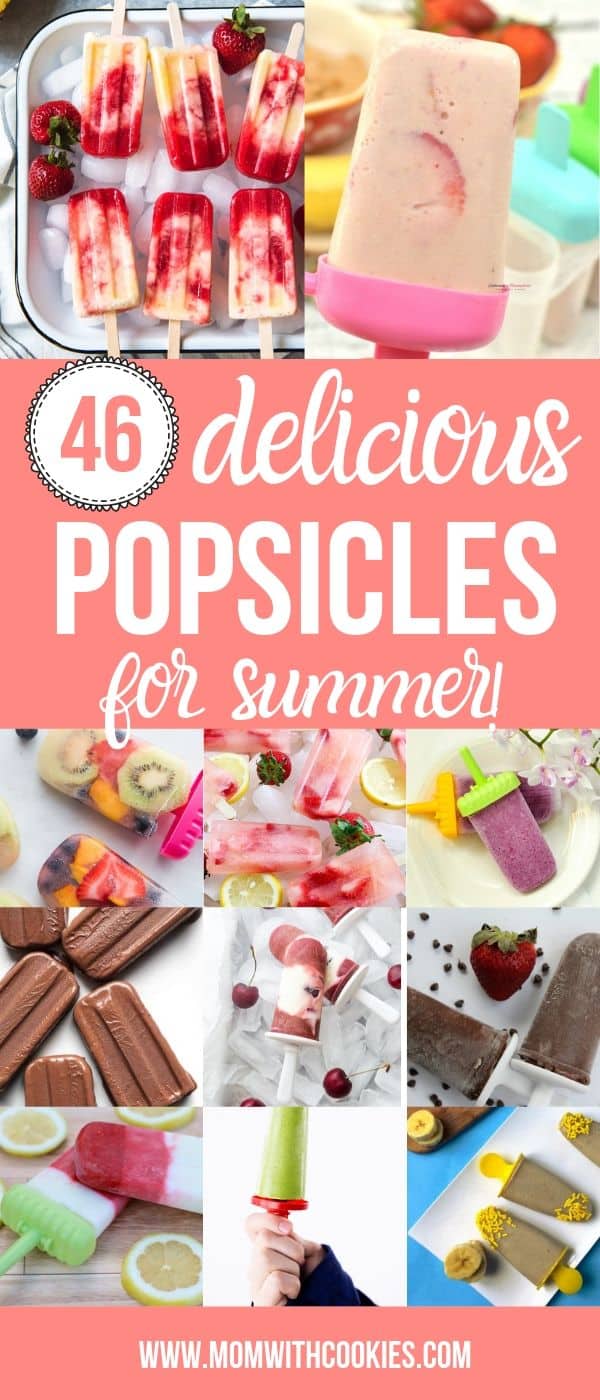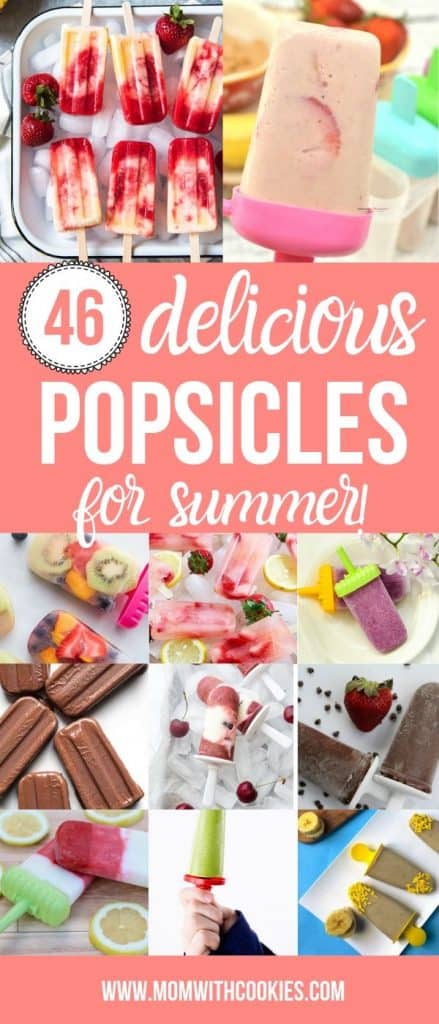 The best homemade Popsicles for Summer
With summer right around the corner, we love enjoying some homemade popsicles! I rounded up a huge list of some of the best recipes to try, so make sure to pin this. 🙂
In an effort to fully disclose, this article contains affiliate links. This means if you purchase something, I would receive a commission. For more information, please see my disclosure page.
Also, make sure to grab some popsicle molds like these on Amazon
so you can make these delicious treats!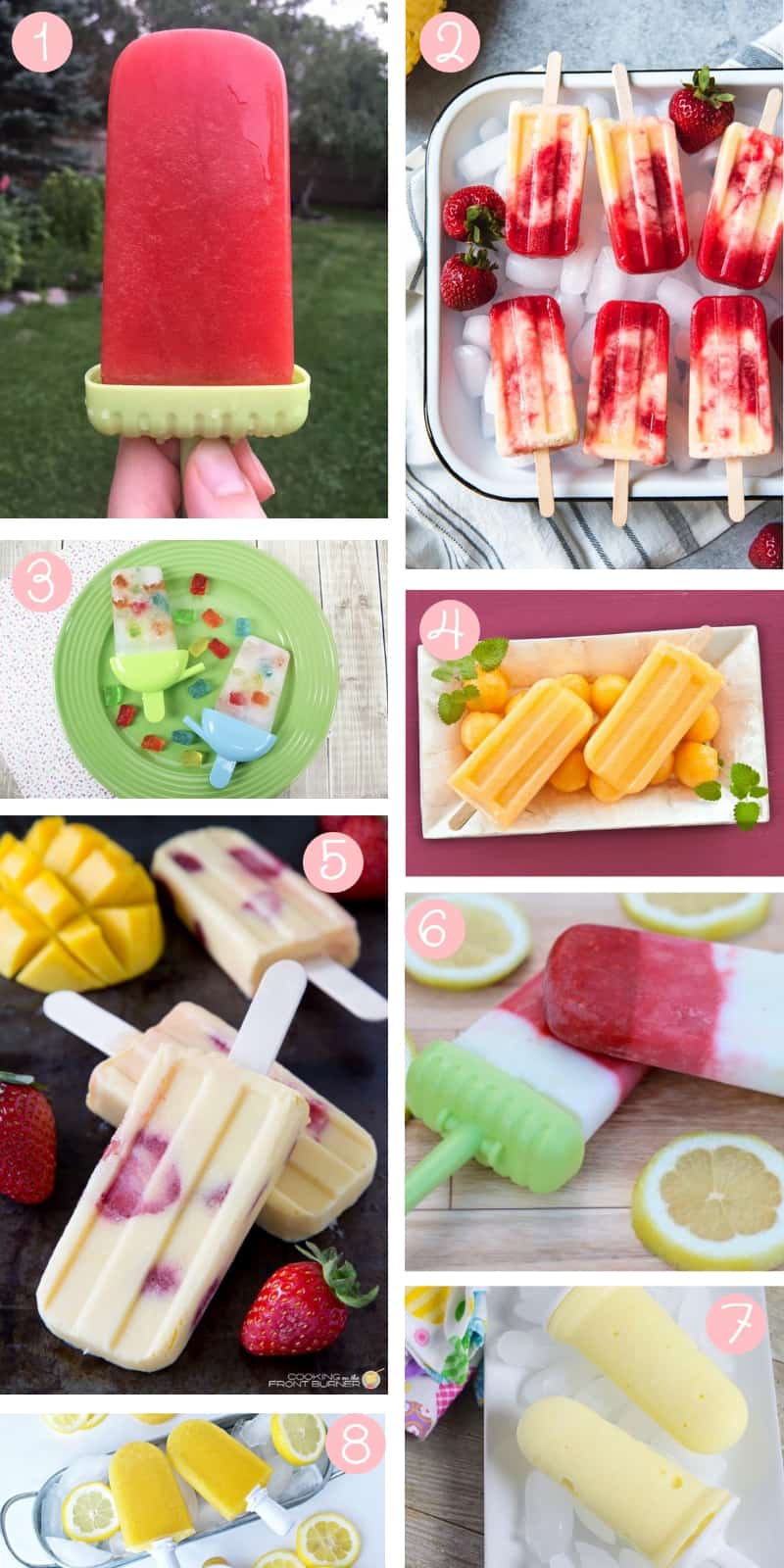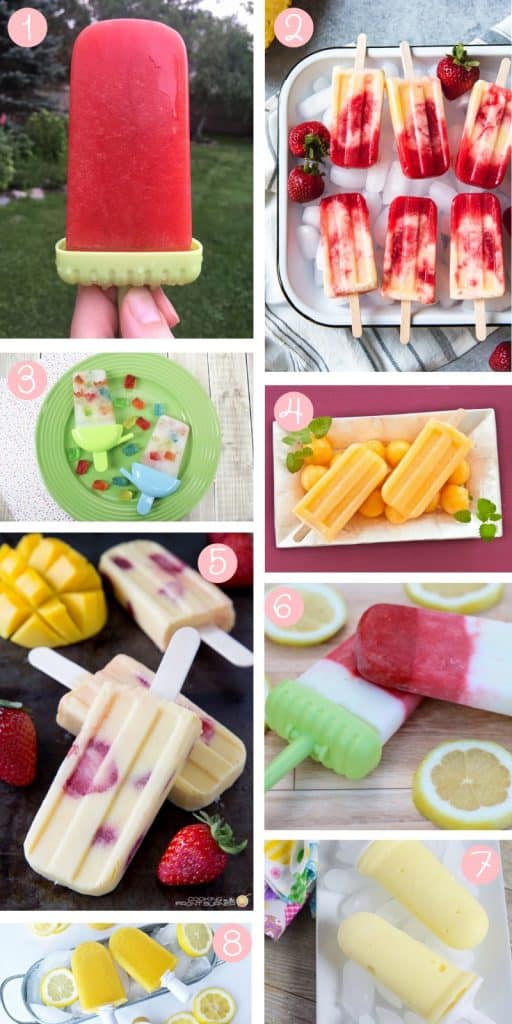 1. Sugar-Free Watermelon Popsicle (via Melanie Cooks) is a great summer treat that is guilt-free and easy to make!
2. Strawberry Pineapple Coconut Swirl Popsicle (via House of Nash Eats) look amazing and taste superb.
3. Gummy bear popsicles (via Two Kids and A Coupon) is a great popsicle for your kids! Seriously, how fun are these?
4. Cantaloupe Ice Pops (via Two Sleevers)- when I think of summer, I think cantaloupe. This is on my list to try for sure!
5. Mango Strawberry Yogurt Popsicles (via Cooking on the Front Burner)- Mango and strawberry go together perfect in this sweet and cool streat!
6. Raspberry Lemonade Yogurt Popsicles (via The Olive Blogger)-I'm currently growing raspberries, so this is one recipe I can't wait to try!
7. Dole Whip Boozy Popsicles (via This Ole Mom)- The perfect adult popsicle for you to enjoy on those hot summer nights. 🙂
8. Citrus and Ginger Immune Boosting Popsicles (via 5 Minutes for Mom)- Not only do these popsicles look amazing, they are also good for you! I love this idea to help keep my kiddos healthy while still enjoying a sweet treat.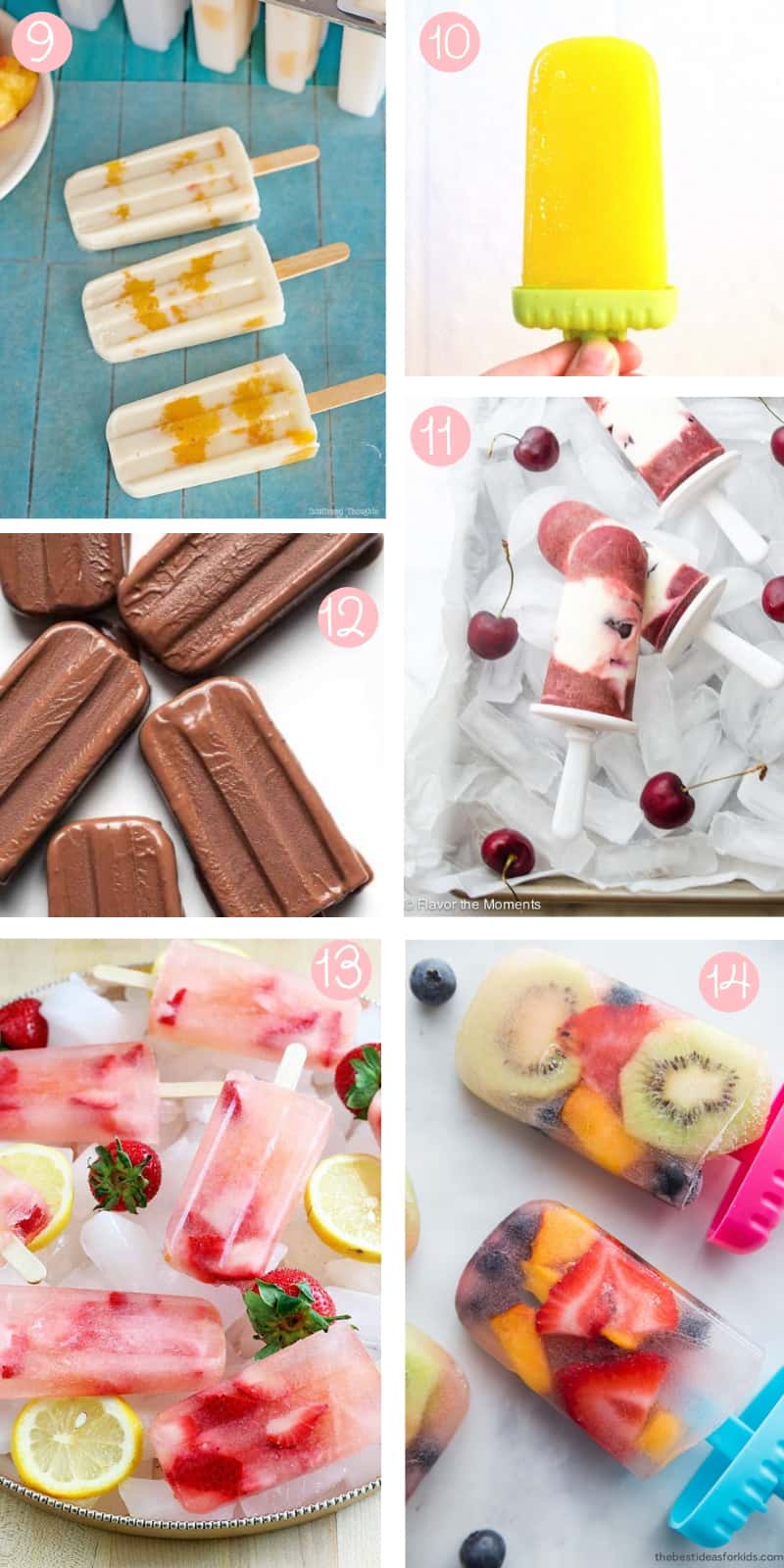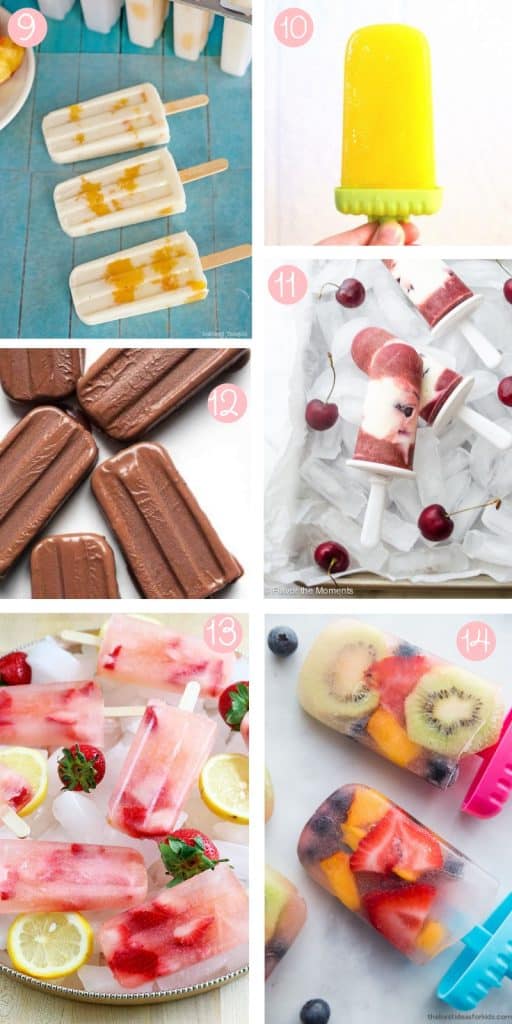 9. 3 ingredient peach yogurt popsicles (via Scattered Thoughts of a Crafty Mom)- Another easy to make popsicle that is truly amazing! You are going to want to make these again and again.
10. Orange Juice Popsicle (via Modern Homestead Mama)- How have I never though of this! A truly brilliant way to make a popsicle your kids are sure to love and is hands down the easiest.
11. Cherry Cheesecake Greek Yogurt Pops (via Flavor the Moments)- Cherry cheesecake is the best! When it's my birthday, I prefer cherry cheesecake over a traditional cake, so this is right up my alley.
12. Cardamom Coffee Fudgesicles (via A Calculated Whisk)-For any coffee lovers out there, or mocha lovers, you need to try this popsicle!
13. Strawberry Lemonade Popsicles (via Foodal)- A great popsicle that is sweet and tart! You will love the taste of these.
14. Homemade Fresh Fruit Popsicles (via The Best Ideas for Kids)- This is another great way to use some fresh fruit and make some delicious popsicles!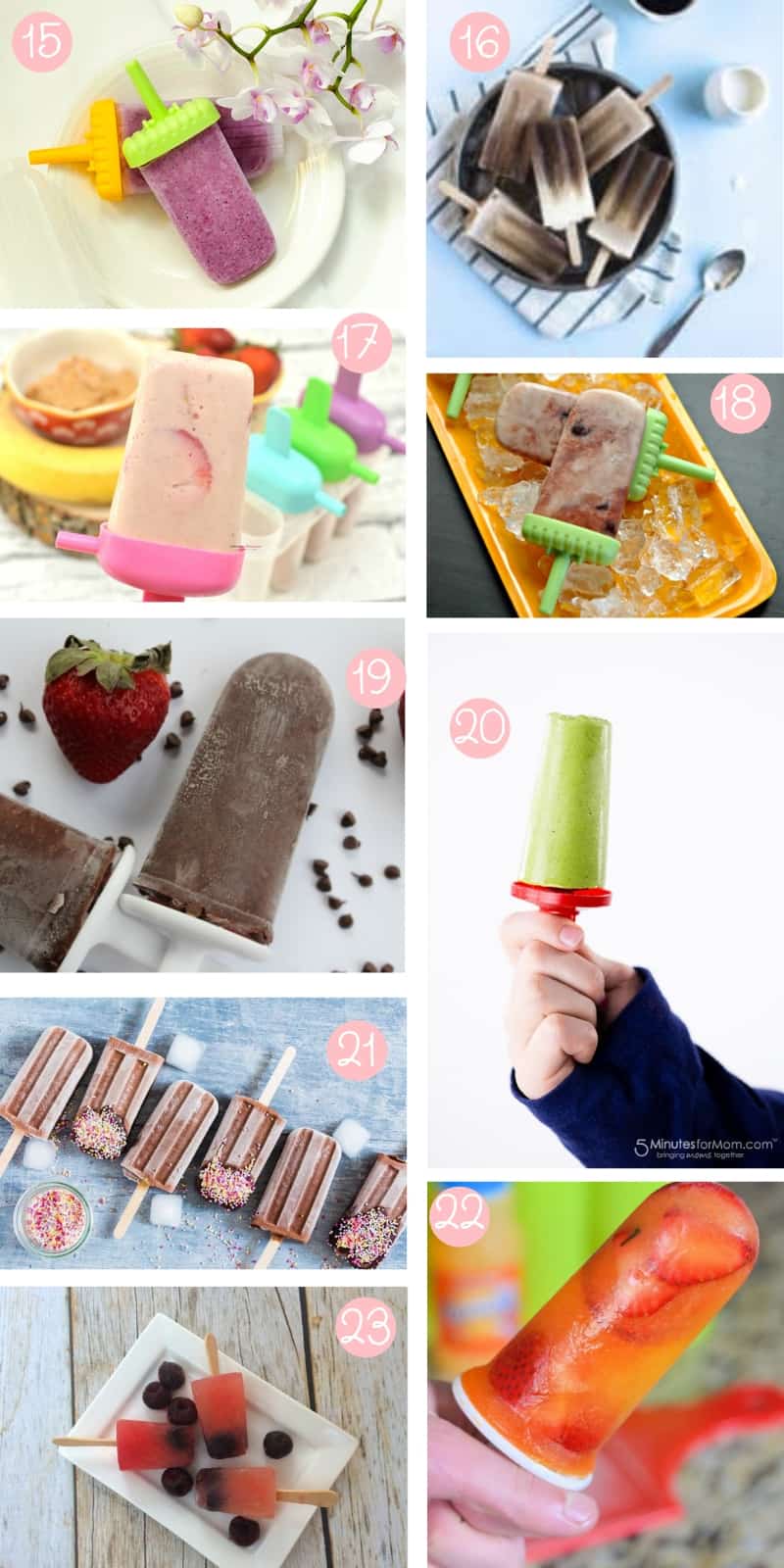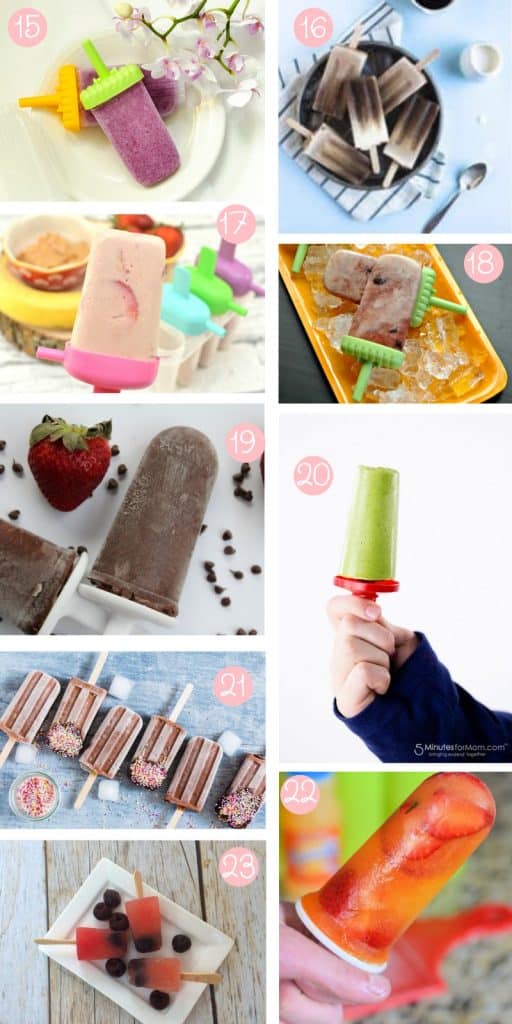 15. Mixed Berry Popsicles (via Two Sleevers)- A perfect combination of berries makes these popsicles bursting with flavor! Not only that, how fun is that purple color?
16. Cold Brew Mocha Popsicles (via The Simple Sweet Life)- Any more coffee lovers out there? This is another way to get your caffeine fix in popsicle form!
17. Peanut Butter and Jelly Popsicles (via Janine Huldie)-A kids' dream come true! My little ones eat peanut butter and Jelly all the time, so they would absolutely want this popsicle.
18. Creamy Very Cherry Ice Pops (via Happy Motherhing)-Cherries are another great fruit that can be found during summer time. This cherry and cream popsicle will be the next hit at your barbecue!
19. Homemade Strawberry Chocolate Pudding Pops (Having Fun Saving)- This is another great chocolate pop with a fresh twist of strawberry! One bite, and you know you are in heaven. 🙂
20. Green Smoothie Popsicles (via 5 Minutes for Mom)-This popsicle is a great way to sneak some veggies into your child's diet, while making it fun!
21. Chocolate Cauliflower Ice Lollies (via Recipes from a Pantry)- Another great way to have a sweet dessert, but it's also filled with veggies! These look fantastic!!
22. SunnyD Fruit Pops with Strawberries (via Mooshu Jenne)- SunnyD was the drink of my youth! So to make a popsicle with it would truly bring me back to the good ole days.
23. Limoncello Cherry Bomb Popsicles (via So Tipical)- Another boozy adult popsicle that will hit the spot for sure!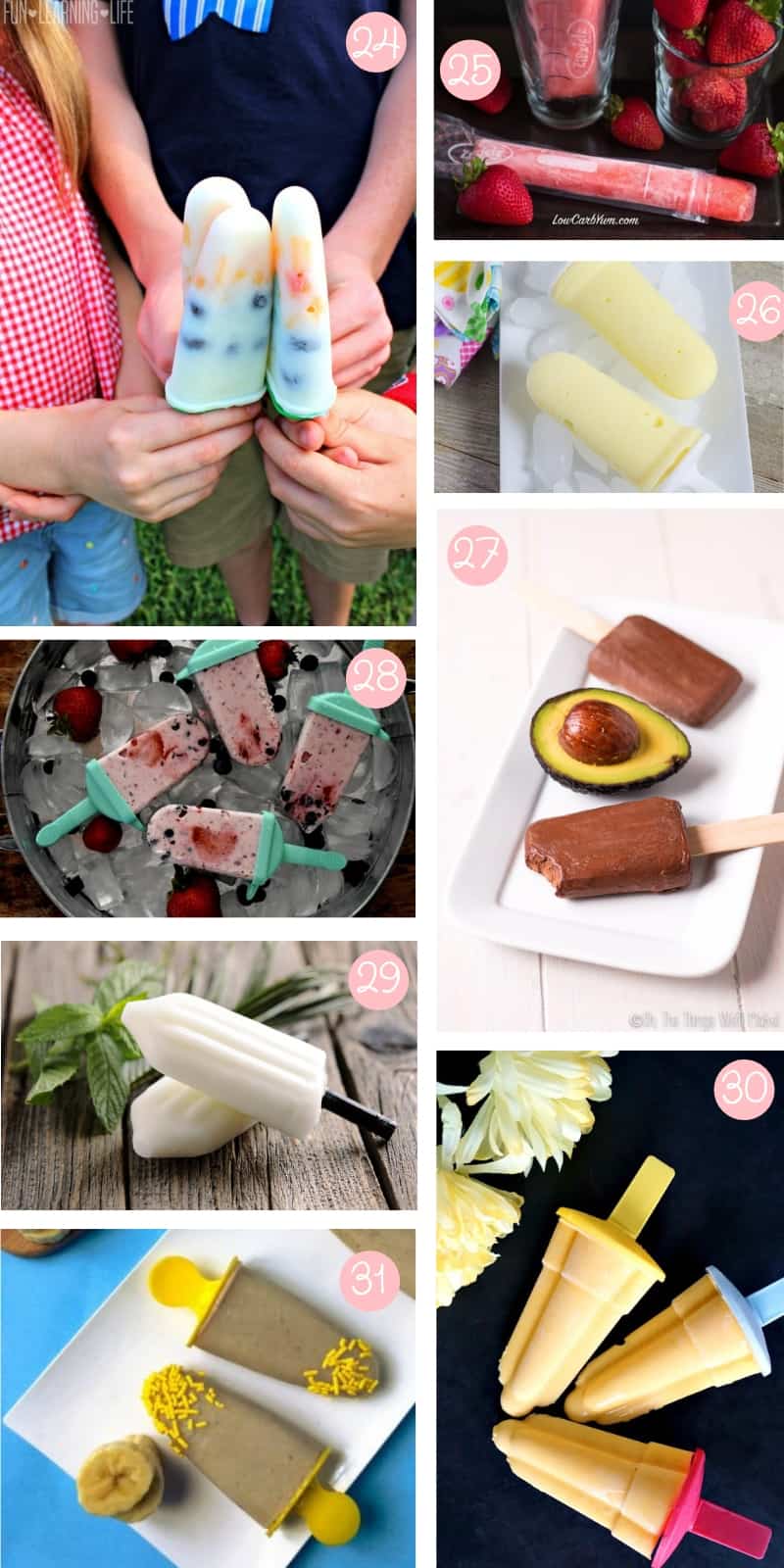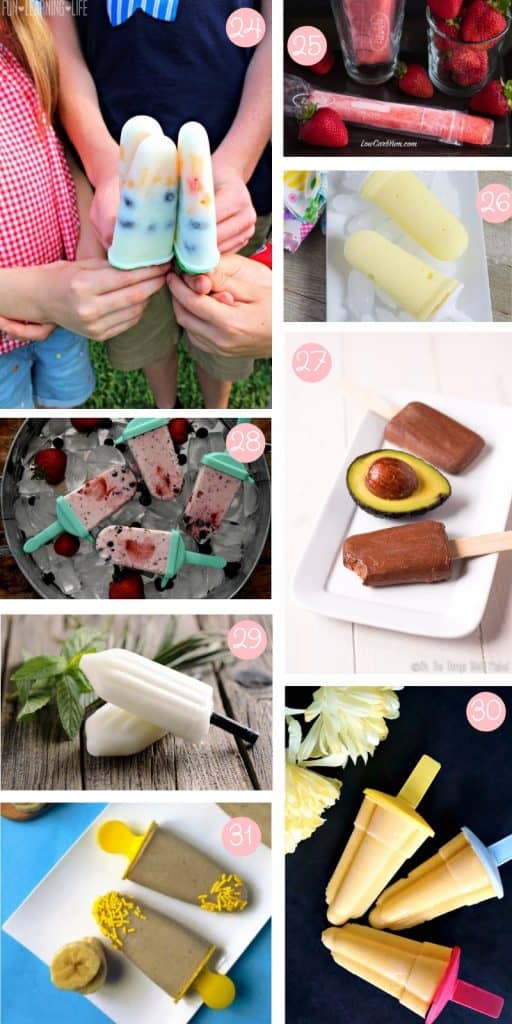 24. Homemade Popsicles recipe with Florida Peaches and Blueberries ( via Fun Learning Life)-While I have never tried mixing peaches and blueberries, it sounds like a winning combination to me!
25. Low Carb Strawberry Freezer Pops ( via Low Carb Yum)-Those of you watching your carb intake or needing a sugar-free treat, these strawberry freezer pops are for you!
26. Dole Whip Boozy Popsicles ( via This Ole Mom)-Another adult-only popsicle that will make you jump for joy! After all, we parents need to enjoy ourselves too. 🙂
27. Paleo Chocolate Avacado Pudding Pops ( via The Things We'll Make)-Chocolate and healthy, how could you say no? These are another guilt free alternative to a summer fudgesicle.
28. Keto Berries and Cream Popsicles ( via Fit to Serve Group)-I'm not on a keto diet, and even I want to try these! Another win for healthy and tasty!!
29. Copycat Mini Milk Paleo Popsicle Lolly ( via Recipe This)-A fruity and refreshing popsicle to beat those hot summer days!
30. 3 Ingredient Mango Lassi Popsicles ( via My Gorgeous Recipes)-A popsicle that your whole family can enjoy! Also, you will love how easy it is to make these.
31. Banana Popsicles Recipe ( via On My Kids Plate)-A classic and easy popsicle your kids will love! Bananas are one of our favorite fruits.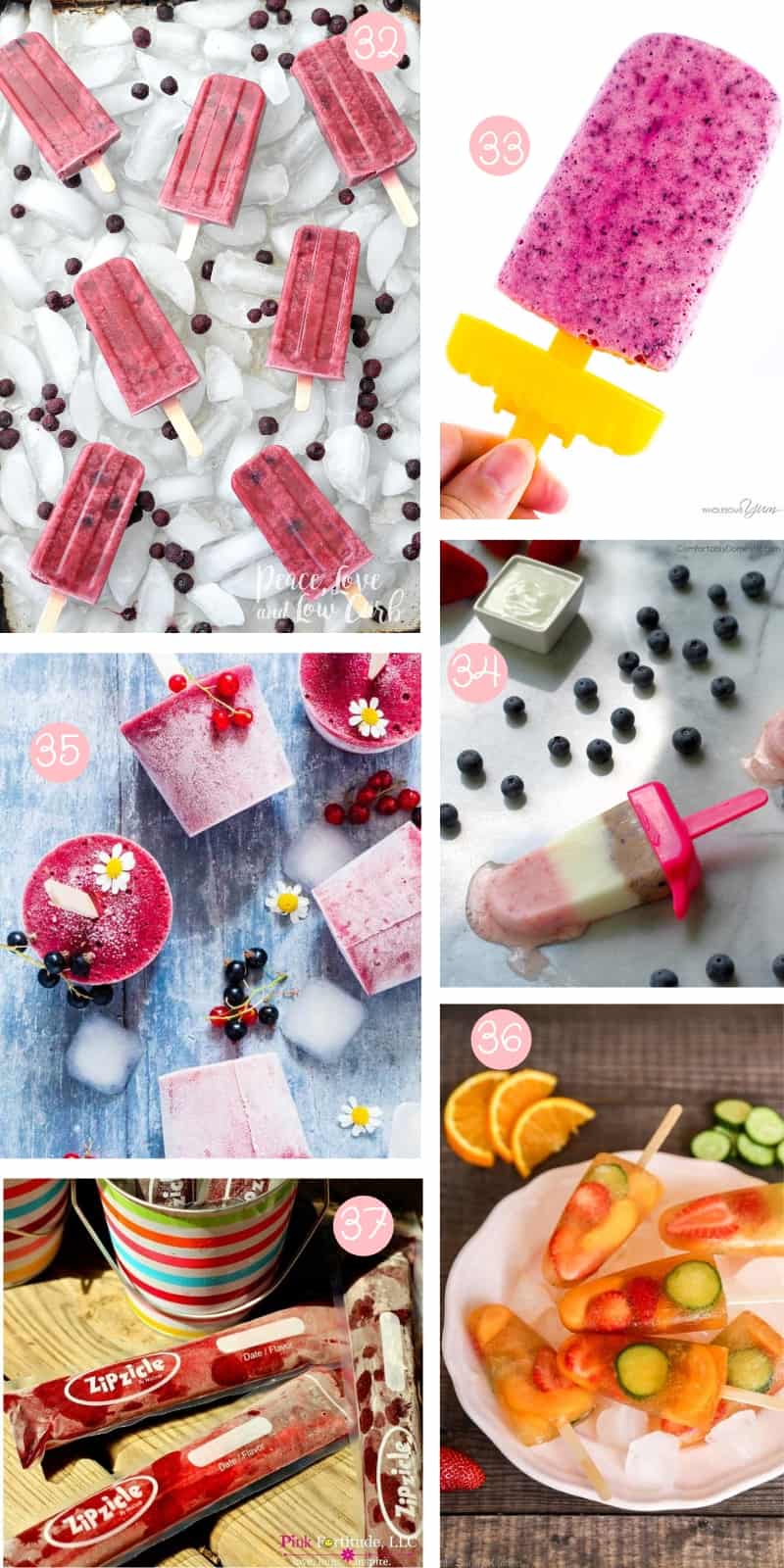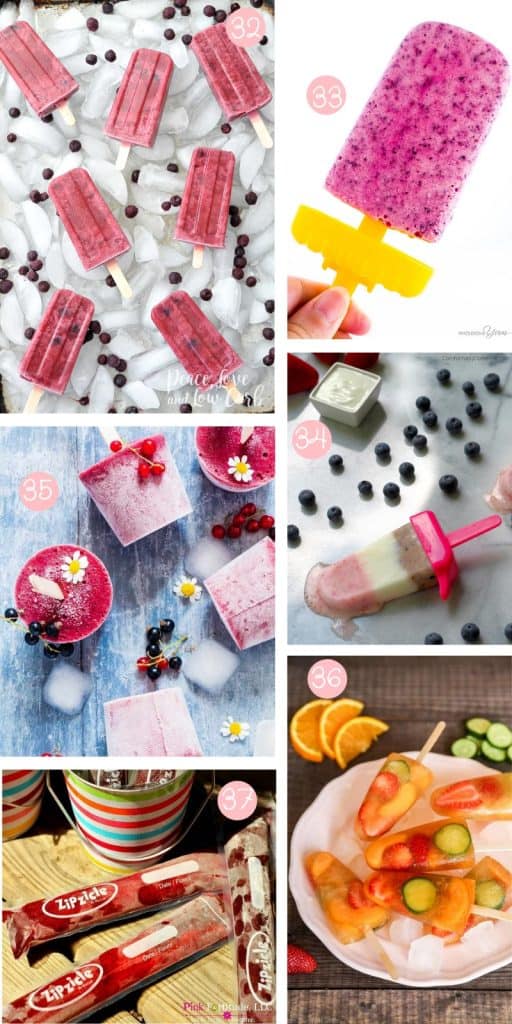 32. Paleo Mixed Berry Coconut Creamsicles (via Peace Love and Low Carb)-A summer treat that is paleo and low carb! Definitely a treat you can enjoy without cheating on your diet. 🙂
33. Sugar Free Blueberry Lemon Popsicles (via Wholesome Yum)-Another great sugar free alternative to popsicles. It's always great finding recipes that don't use sugar because they are healthier!
34. Red White and Blueberry Yogurt Pops (via Comfortably Domestic)-Talk about PERFECT for the fourth of July! Or really any time, because they taste that good.
35. Balsamic Berry Watermelon Popsicles (via Recipes From a Pantry)- A unique and new combination, but it sure does look inviting! I'm putting these on my summer list of recipes to make because I love trying new things. 🙂
36. Pimm's Ice Lollies (via Little Sunny Kitchen)-Woo-hoo another boozy adult popsicle! The ingredients sound like a winning combination and this is another recipe I plan on making this summer. 🙂
37. Berry Freezer Pops (via Pink Fortitude)-While freezer pops can be found in the store, you won't look at a store-bought one the same again. These berry freezer pops by Pink Fortitude are spot-on!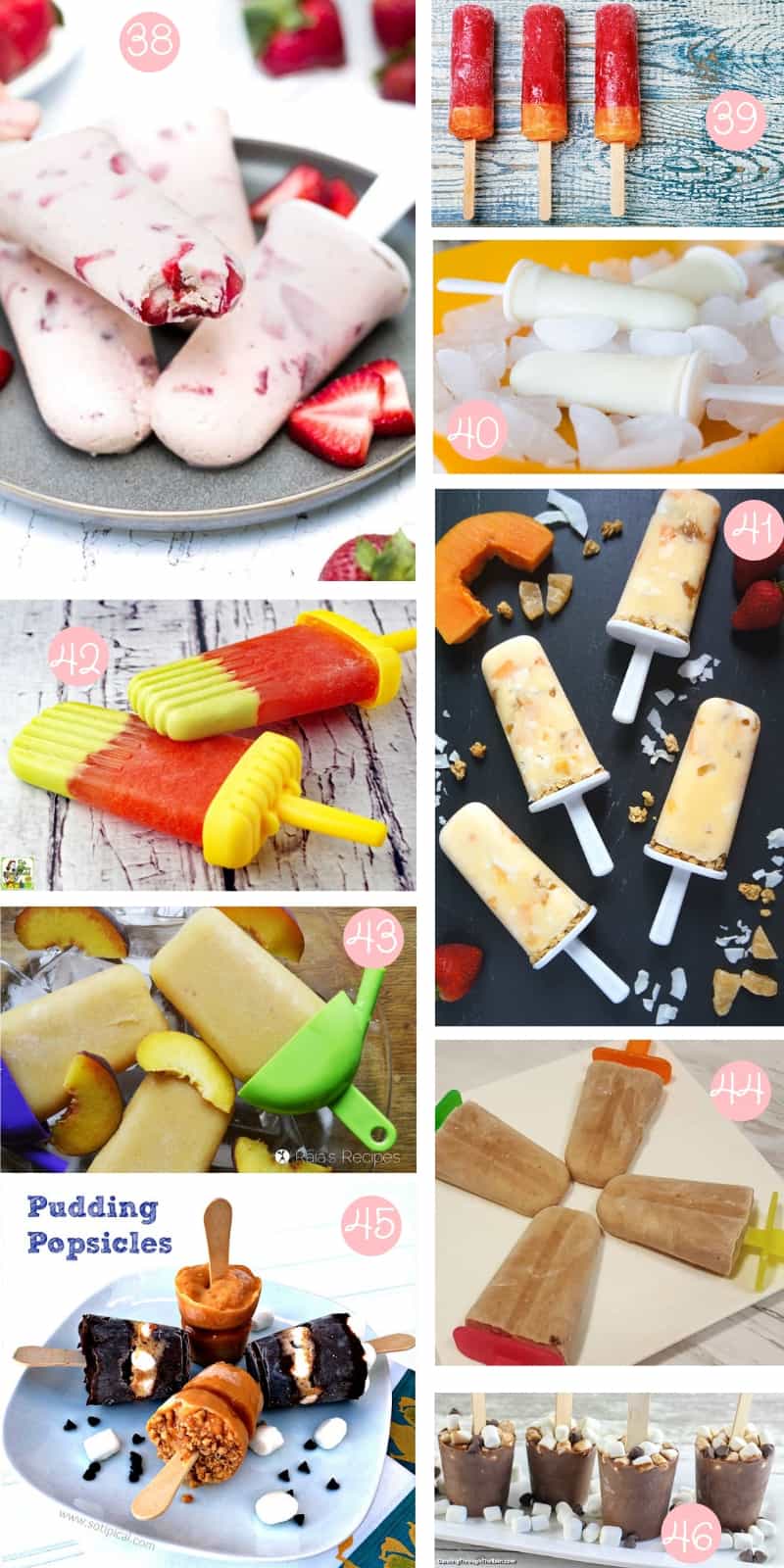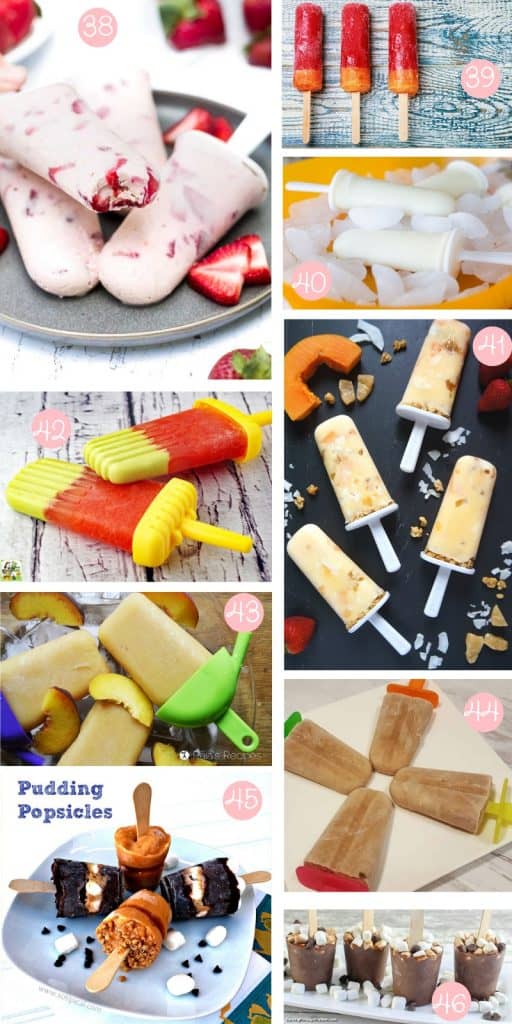 38. Strawberry Cheesecake Popsicles (via The Cozy Cook)-Another great popsicle that truly is amazing! Seriously, give me cheesecake anything and I will be happy. 🙂
39. Easy Strawberry Orange Popsicles (via Nerdy Mamma)- While simple to make, they are bursting with the summer flavors of strawberries and oranges!
40. Pineapple coconut Nice Cream Pops (via Nerdy Mamma)- "If you like pina coladas, and getting caught in the rain..." I couldn't resist, but if you like pina coladas, these are your summer popsicle!
41. Tropical Frozen Yogurt Popsicles (via Honey and Lime)-I really like that these popsicles are filled with fruit, yogurt, and granola! That's my kind of snack during summer.
42. Avocado and Watermelon Popsicles (via This Mama Cooks)-These are another fun looking, and great-tasting popsicles. While I haven't had avocado and watermelon together, I am anxious to try it out!
43. Honey Peach Popsicles (via Raia's Recipes)-These are another healthy popsicle with no added sugar. The honey and peaches are a delightful pair!
44. Instant Pop Mexican Hot Chocolate Frozen Yogurt Pops (via This Old Gal)-Mexican hot chocolate has such a great flavor, so the idea to make popsicles out of it is genius!
45. Pudding Popsicles (via So Tipical)-Talk about comfort food! These pudding popsicles have some great mixins and are easy to make.
46. Hot Chocolate Popsicles (via Dancing Through the Rain)-During the summer time, it's hard to think about drinking a hot chocolate, but with this popsicle, you can! YAY!
___________
I would also like to thank all of the wonderful bloggers and food gurus for contributing! You all rock!!
Wow, that's a lot of popsicle recipes! Which one is your favorite? Leave me a comment below. I'm definitely inspired to buy some some more popsicle molds
and make a bunch of these new flavors.
Thanks for stopping by!