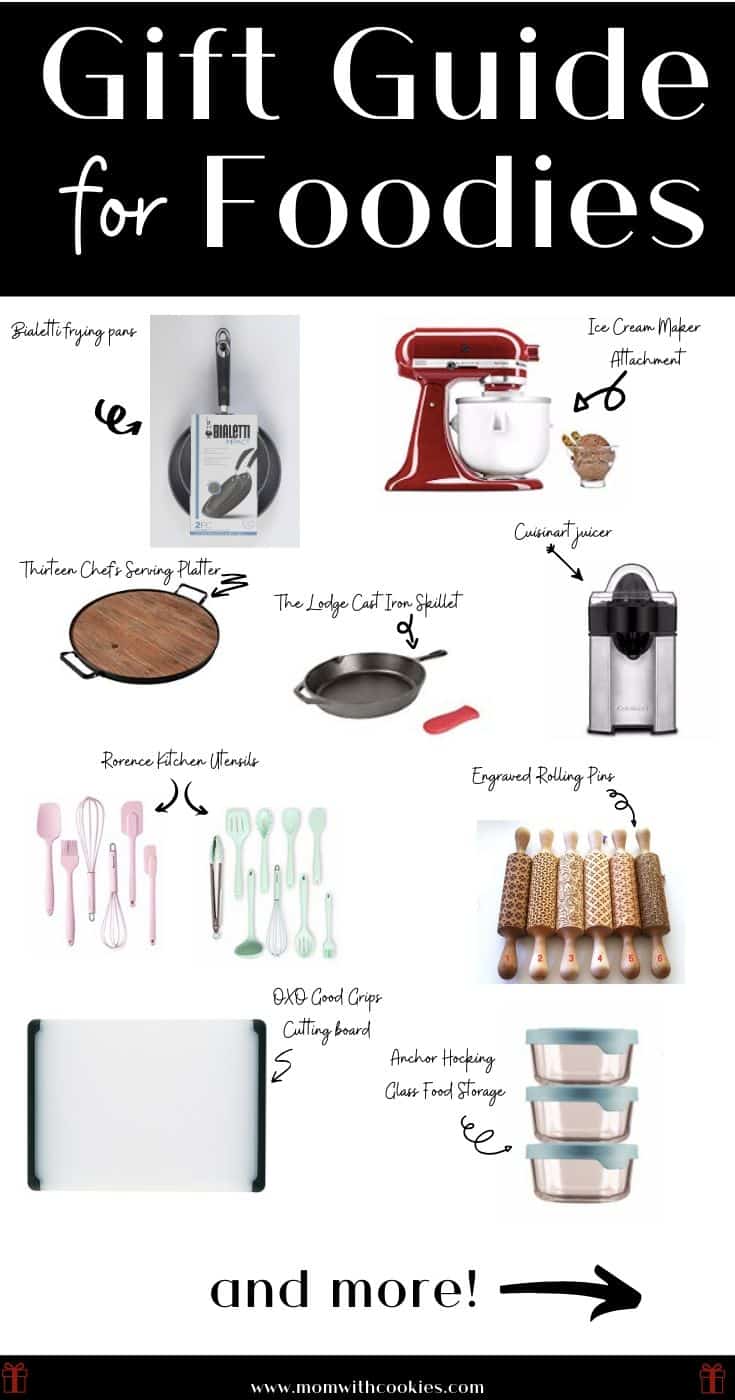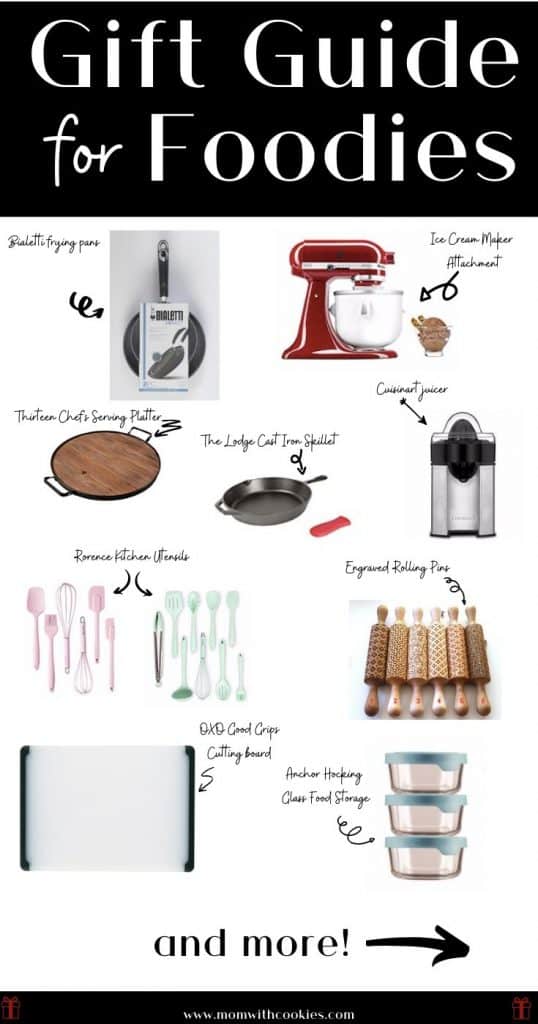 Do you know someone who LOVES to cook? If so, this list of foodie gifts will be just what you need!
As a self-proclaimed foodie and food blogger, I know a thing or two about what gifts they might like.
In an effort to fully disclose, this article contains affiliate links. It also includes items that I was gifted, but all opinions are my own. If you purchase something, I would receive a commission. For more information, please see my disclosure page.
The gifts every foodie wants
1. Bialetti Frying Pans

Is there really such thing as having too many pots or pans? Well, for people who like to cook all the time, the answer is NO.
The one thing to remember is that one quality pan is worth a lot more than a bunch cheap frying pans that won't last long. I personally have these Bialetti pans and LOVE them.
2. Cutting Board
Cutting boards are another great choice for a foodie because their's is probably pretty worn out. I use this cutting board from OXO, because it is easy to clean and holds a lot of food to cut.
3. Cheese Board
What's the difference between a cutting board and a cheese board? Well... a cheese board is a platter used to serve food. Most notably, cheeses, fruits, and other little finger foods.
Thirteen Chef's makes a large 20-inch farmhouse barrel platter that would be perfect for a gift! It is gorgeous and can hold quite a lot of food.
4. A Juicer
This is another great gift idea that is so useful! They can make their own freshly squeeze lemonade or orange juice, and hopefully they will let you try some too. 🙂
Cuisinart makes this great one that lets you control how much pulp you want in your juice.
5. Ice Cream Maker
Ice cream makers have come a long way from the stand alone barrel version. Did you know Kitchenaid has a mixer attachment that makes ice cream?
This is definitely a gift they will enjoy, and be pleasantly surprised!
6. Food Storage
If they make as much food as I do, there is ALWAYS leftovers. Giving them some great food storage containers will really come in handy!
We like glass food storage containers because they seem to last longer, and are easier to clean.
7. Heat-resistant kitchen utensils
Rorence makes some beautiful whisks, spatulas, ladles, tongs, and servers. What I like most about Rorence's utensils are that they are made with heat-resistant silicone, so no scratch and they won't melt!!
They have a 6 piece set in pink, and a 9 piece set in mint green.
8. Electric Griddle
Electric griddles are great for cooking a lot of food quickly! Lay out that whole package of bacon on a griddle and cook it in no time. Or a bunch of mini pancakes!
9. Engraved Rolling Pins
Any sugar cookie fans will love the way these rolling pins roll out cookie dough. They leave a flower imprint that is absolutely stunning!
10. Cast Iron Skillet
The last idea for a gift is a cast iron skillet. The Lodge makes one that is amazing! I use mine for cast-iron skillet pizza, which is something you really MUST try.
With the holidays approaching, you are ahead of the game on what the foodie in your family will want! YAY!