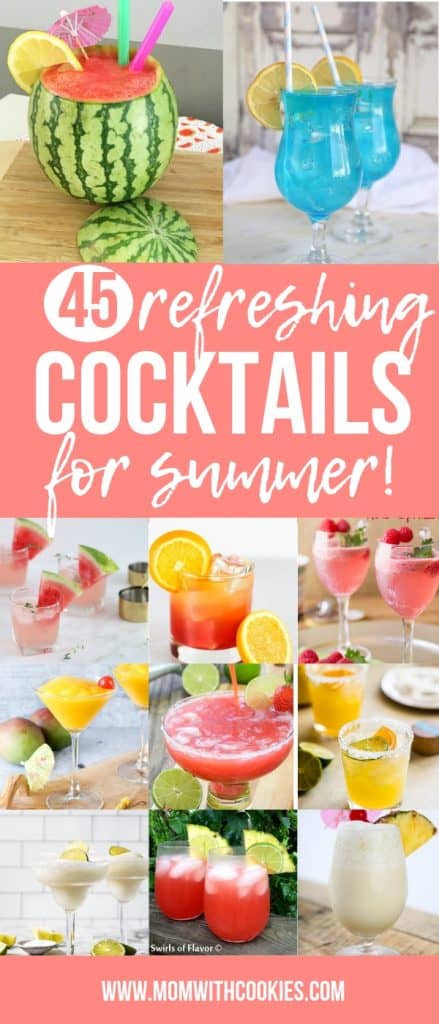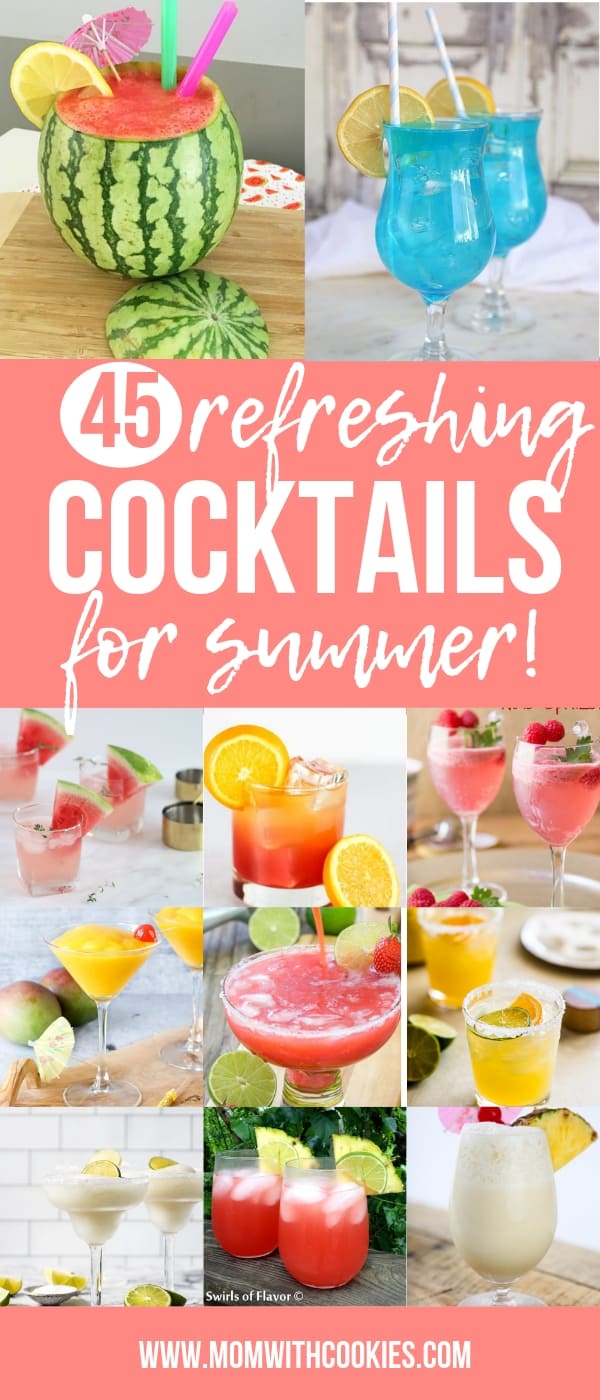 Summer is a great time to experiment and try out some new drinks! That's why I have compiled a list of the best summer cocktails from some talented bloggers.
For the complete recipe and detailed instructions and how-to, make sure to click on the link!
Summer Cocktails: The best of the best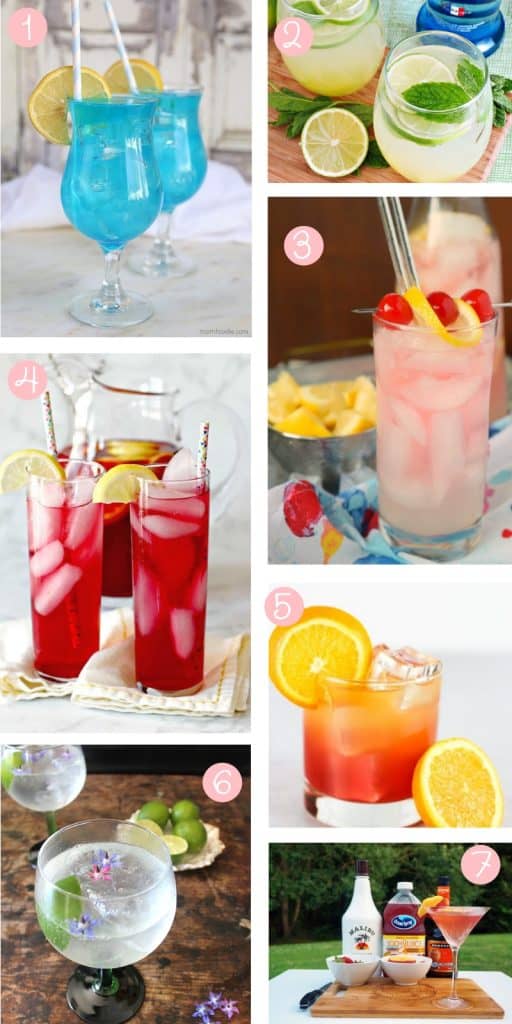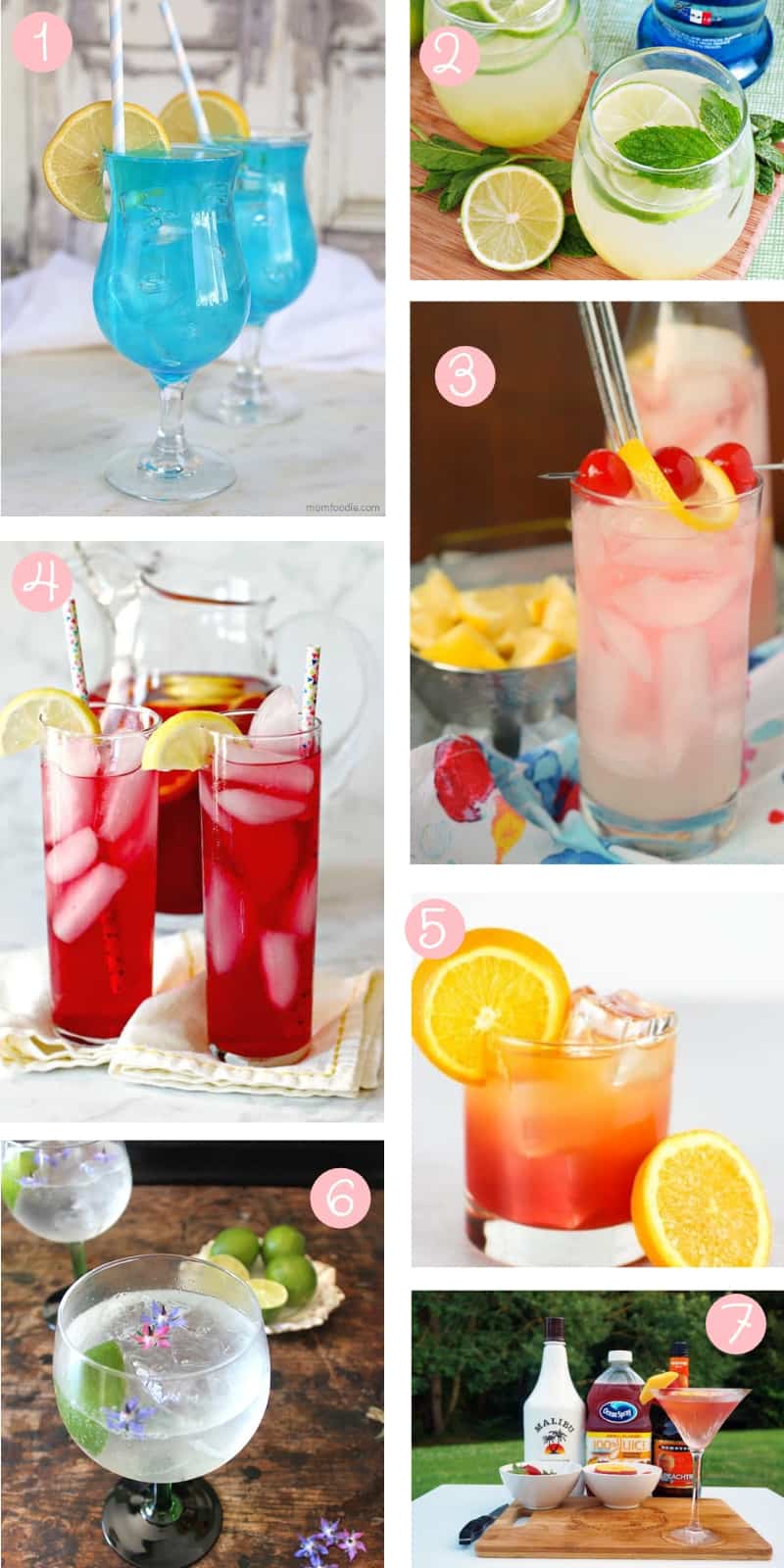 1. Blue Lagoon Cocktail (via Mom Foodie)
I just love the color of this drink, what a bright blue drink to enjoy summer!
2.Pineapple Vodka Limeade (via Home Cooking Memories)
I love pineapple, and this particular drink sounds like an amazing one! It's going to be one of the first I try.
3. Summer Slammer Cocktail (via Who needs a Cape)
The name says it all because this is such a tasty drink!
4. Spiked Iced Tea (via Veggies Save the Day)
Yay for an adult iced tea!
5. Malibu Bay Breeze (via Become Betty)
For those of you who like a tropical drink, this one is for you!
6. Classic Gin Rickey Cocktail (via Veggie Desserts)
Any gin fans? Try out this summer inspired cocktail by Veggie Desserts.
7. Beach Please Martini (via Mom Envy)
I would make this for the name alone ;). What a flavorful drink bursting with lots of fruit!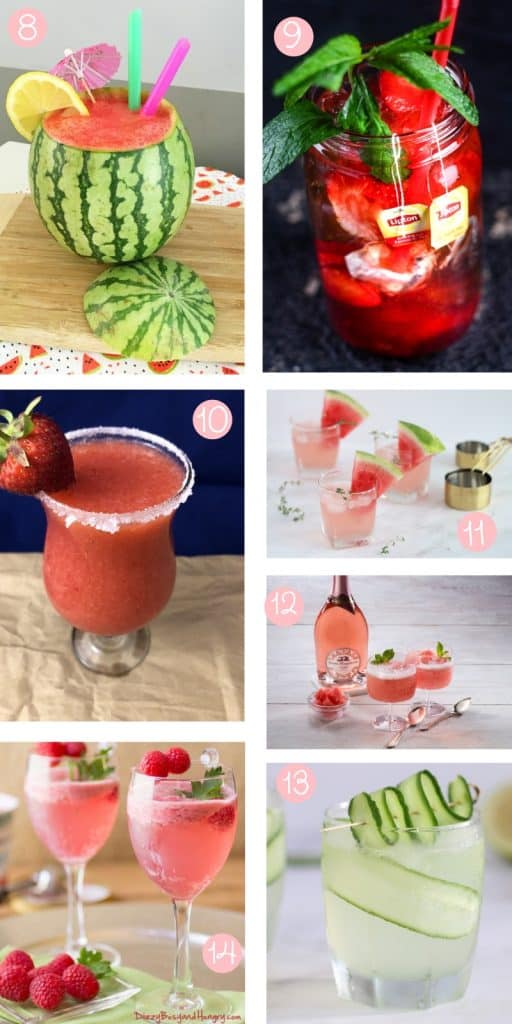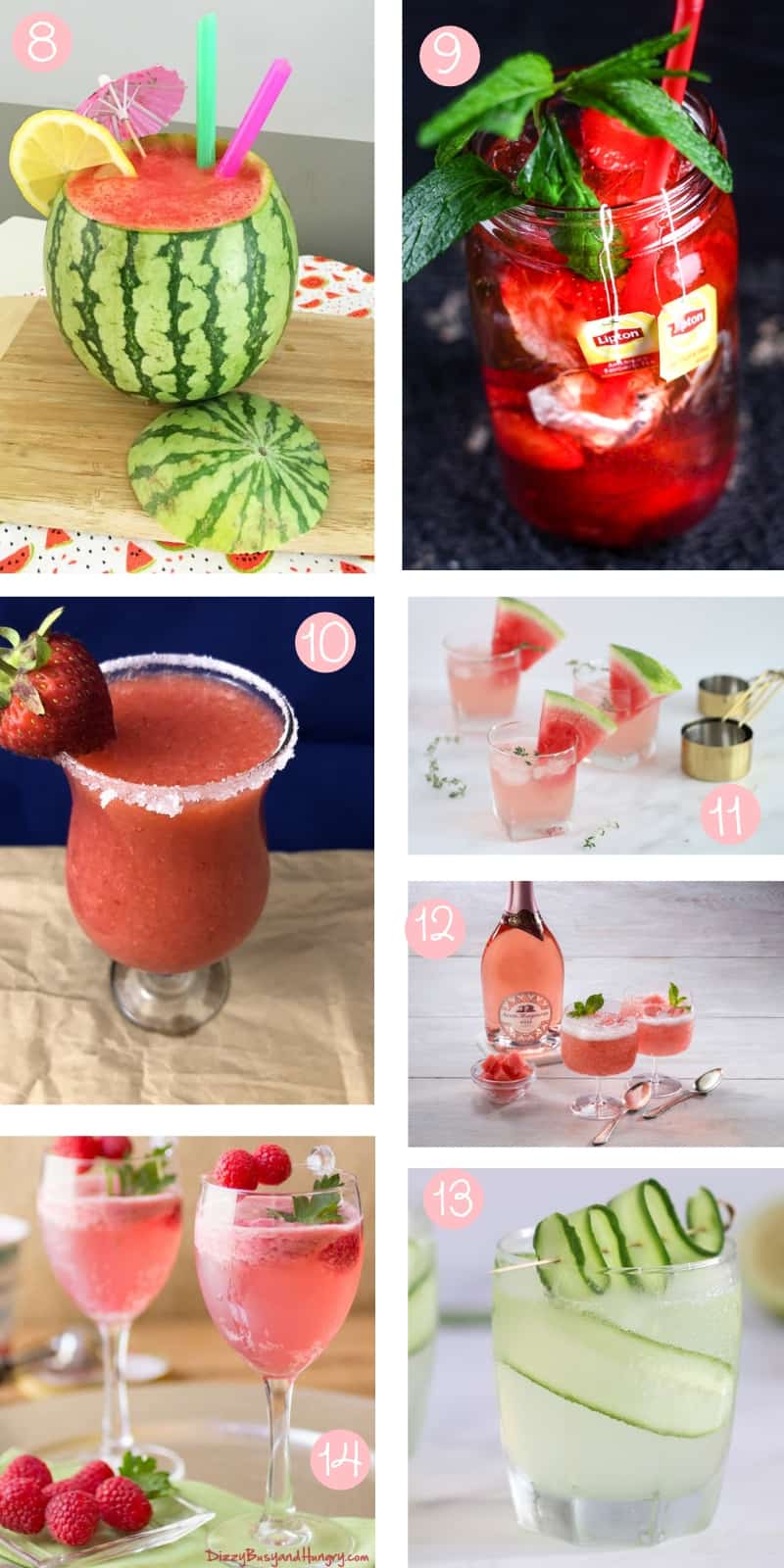 8. DIY Fresh Watermelon Cocktails (via A Magical Mess)
How cool is this watermelon slushy, served in a watermelon? Hands down, this would really impress your friends!
9. Strawberry Whiskey Sweet Tea (via Adventures of a Military Family of 8)
I love sweet tea, but I have never tried strawberry whiskey sweet tea! Sounds amazing!! Also, I love the idea of serving a summer drink in a mason jar.
10. Strawberry Pineapple Daiquiri (via Son Shine Kitchen)
Daiquiris are always my go-to drink of choice, and this strawberry pineapple will really make you smile! Again, have I mentioned I like pineapple. 🙂
11. Watermelon Thyme Sour Drink (via Renana's Kitchen)
Watermelon is the fruit of summer, and this drink is another good example of why.
12. Frose Watermelon Granita (via Honey and Lime)
Rose fans, this one is for you! Summer or not, I could drink this all year around.
13. Green Gin Cocktail (via Renana's Kitchen)
A light and refreshing cocktail that has just a hint of cucumber. YUM! It also looks super classy.
14. Raspberry Sorbet Wine Spritzer (via Dizzy Busy and Hungry)
This is a drink worth cheating on any diet. Everything about it will make you want more!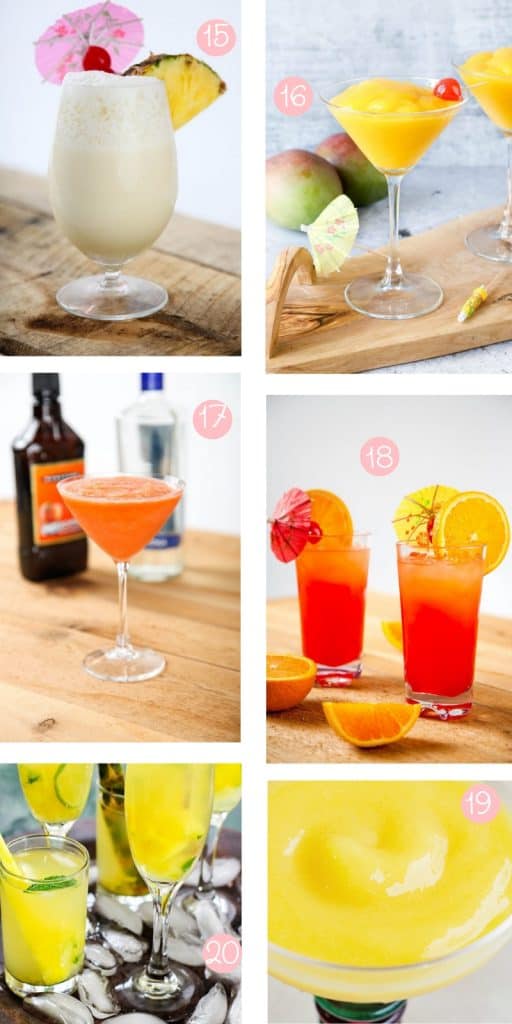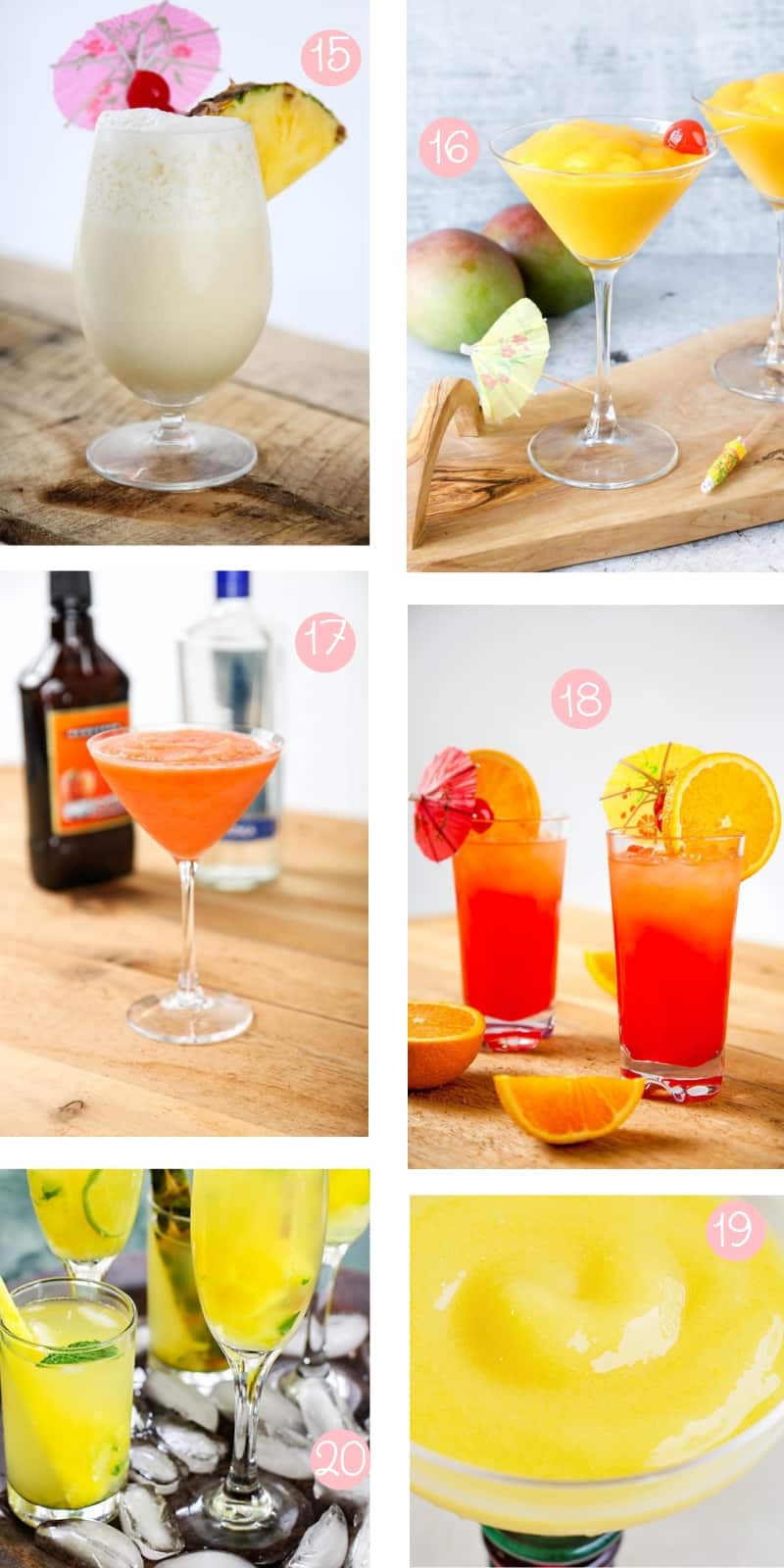 15. Frozen Pina Colada (via Baking Beauty)
Pina coladas are my second go-to for drinks. Pineapple and coconut go so well together!
16. Frozen Mango Daiquiri (via Little Sunny Kitchen)
This is such a fun and bright drink that is bursting with mango flavor!
17. Peach Bellini (via Baking Beauty)
Peachy and delicious, this cocktail won't disappoint.
18. Easiest Tequila Sunrise (via Baking Beauty)
Such a tropical citrus delight!
19. Mango Margaritas (via Scattered Thoughts of a Crafty Mom)
How amazing does this mango margarita look? I could just drink it right now!
20. Pineapple Mojito (via Mom Foodie)
For all you pineapple fans (you were warned, I like pineapple), here is your next mojito recipe!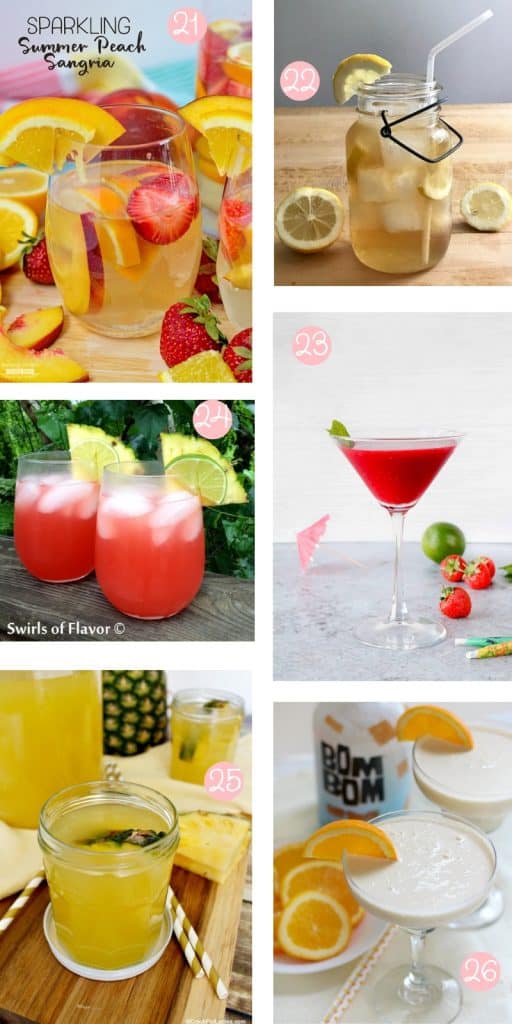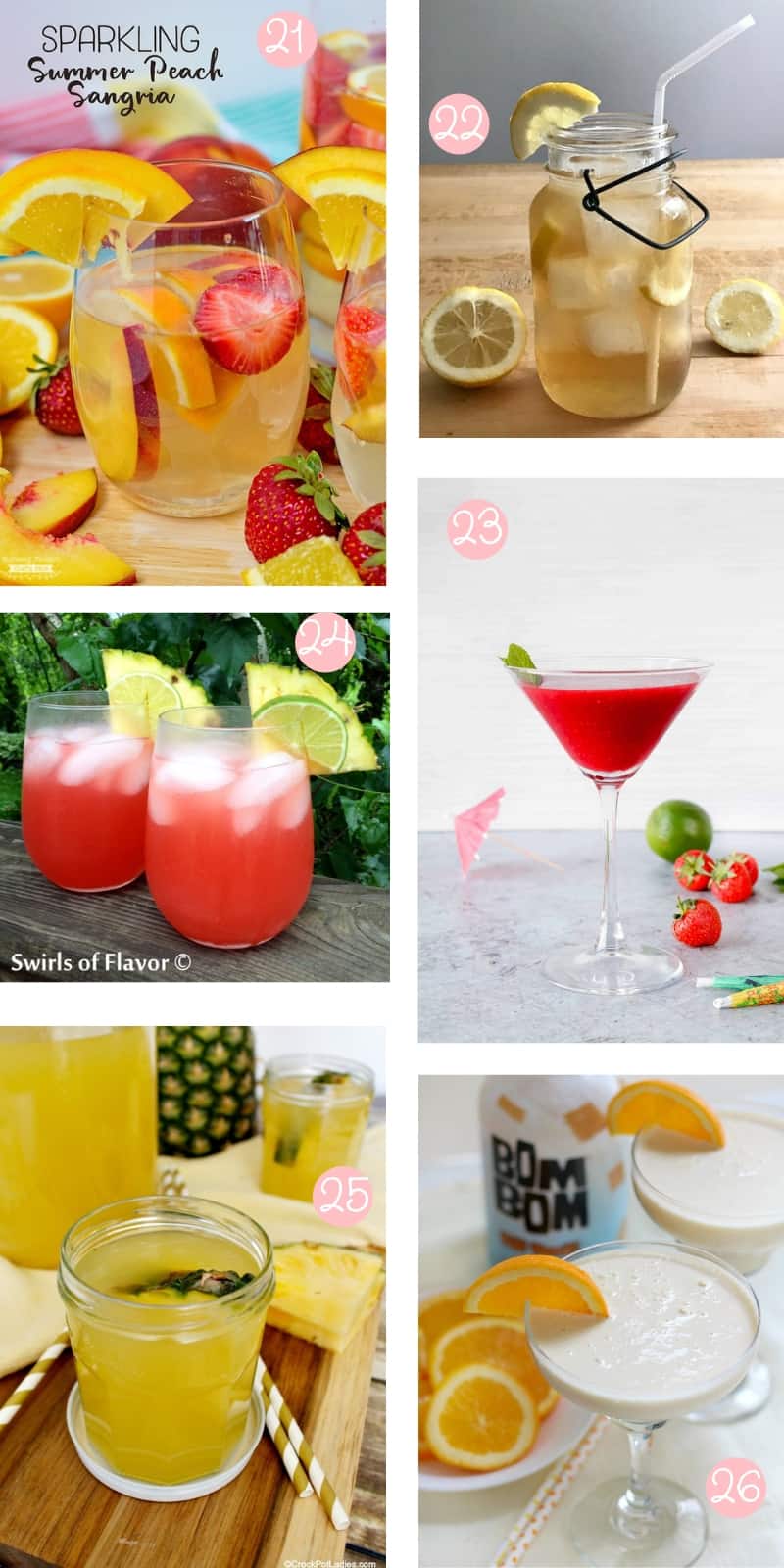 21. Sparkling Summer Peach Sangria (via Scattered Thoughts of a Crafty Mom)
I absolutely love a good sangria and the fresh fruit really makes this such an appealing drink!
22. Spiked Peach Ice Tea (via Our Crafty Mom)
Another great spiked ice tea and this one is peach flavored! YUM!
23. Strawberry Daiquiri (via Little Sunny Kitchen)
This looks so good! If you haven't already checked out Little Sunny Kitchen's blog, you should! They have some amazing recipes and drinks.
24. Caribbean Sunset (via Swirls of Flavor)
How can you not want a drink that makes you feel like you are in a tropical island. Perfect for those stay-cations where you are longing for the beach!
25. Crockpot Pineapple Moonshine (via Crockpot Ladies)
Wow, I am blown away by this recipe! I would never have thought to make moonshine in a crockpot. So cool! Yes, it's even pineapple flavored!! EEK!
26. 4-ingredient Orange Julius Cocktail (via Strength and Sunshine)
It's a creamy and fruity sensation that will make your tastebuds shout with glee!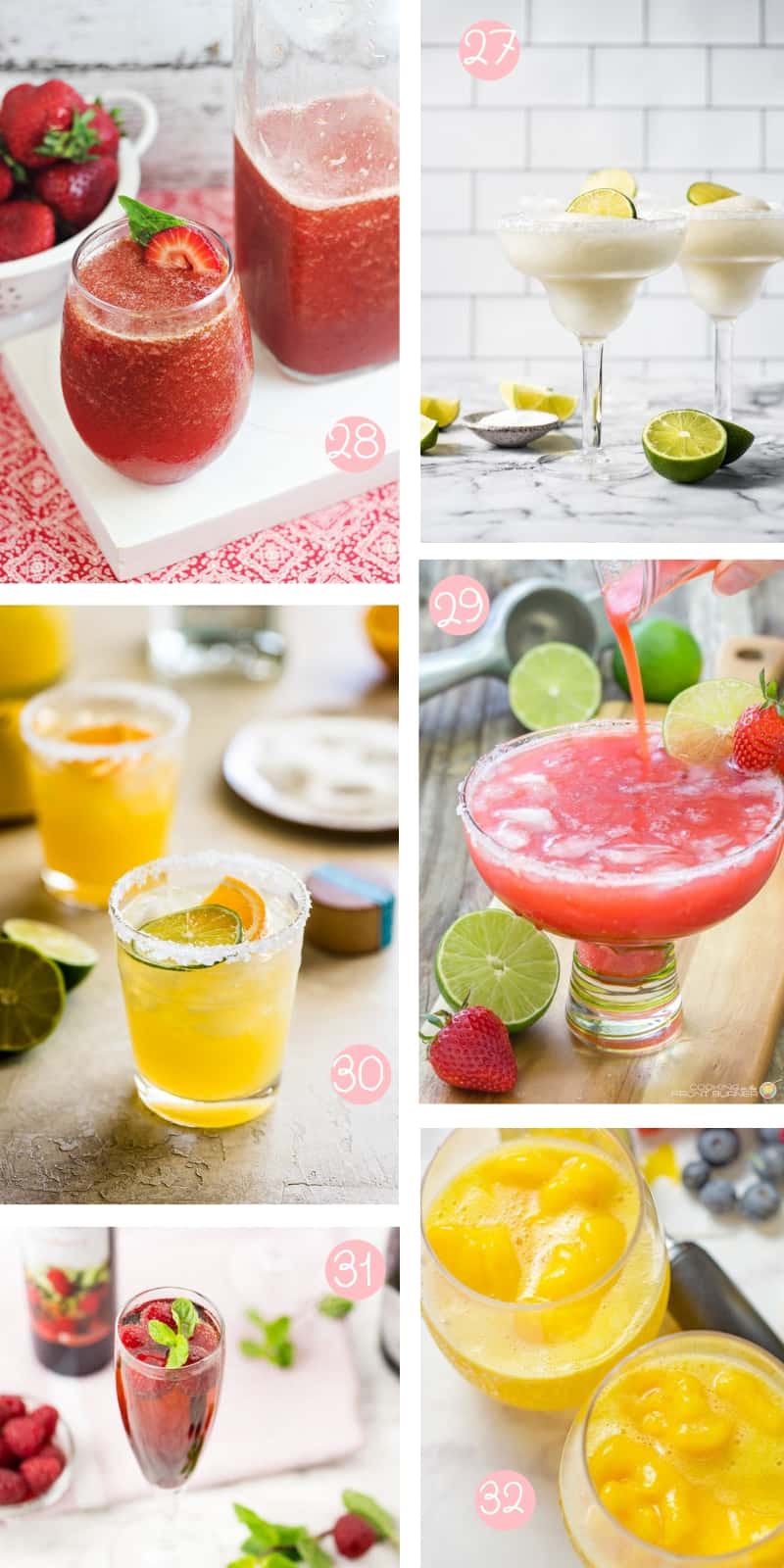 27. Frozen Margarita (via Isabel Eats)
If you are into a more classic drink this summer, this frozen margarita will be what you want!
28.Basil Berry Daiquiri (via Home Cooking Memories)
I don't use many herbs, but this basil berry daiquiri might just change that!
29. Fresh Strawberry Margarita (via Cooking on the Front Burner)
Another great margarita filled with strawberry and lime flavors.
30. Skinny Margarita (via Isabel Eats)
A great alternative to a traditional margarita for those of you looking for a low-calorie option!
31. Raspberry Sparkling Wine Cocktail (via 5 Minutes for Mom)
This raspberry sparkling wine looks heavenly! I bet this woud pair nicely with a good cheesecake. 🙂
32. Mango and Peach Moscato Cocktail (via Scattered Thoughts of a Crafty Mom)
Moscata is my jam! It's a fruity wine that is not overpowering. With the mango and peach you can bet this is a drink you want to try!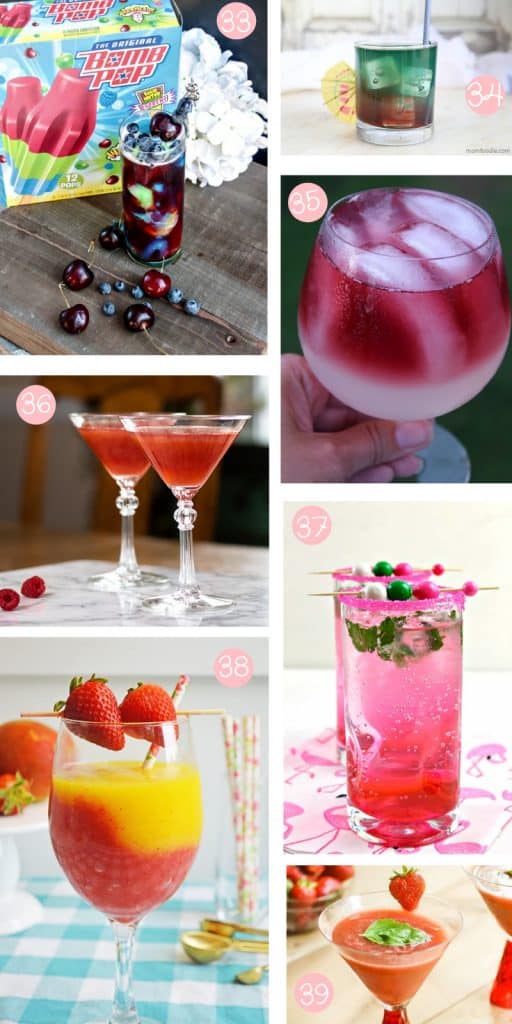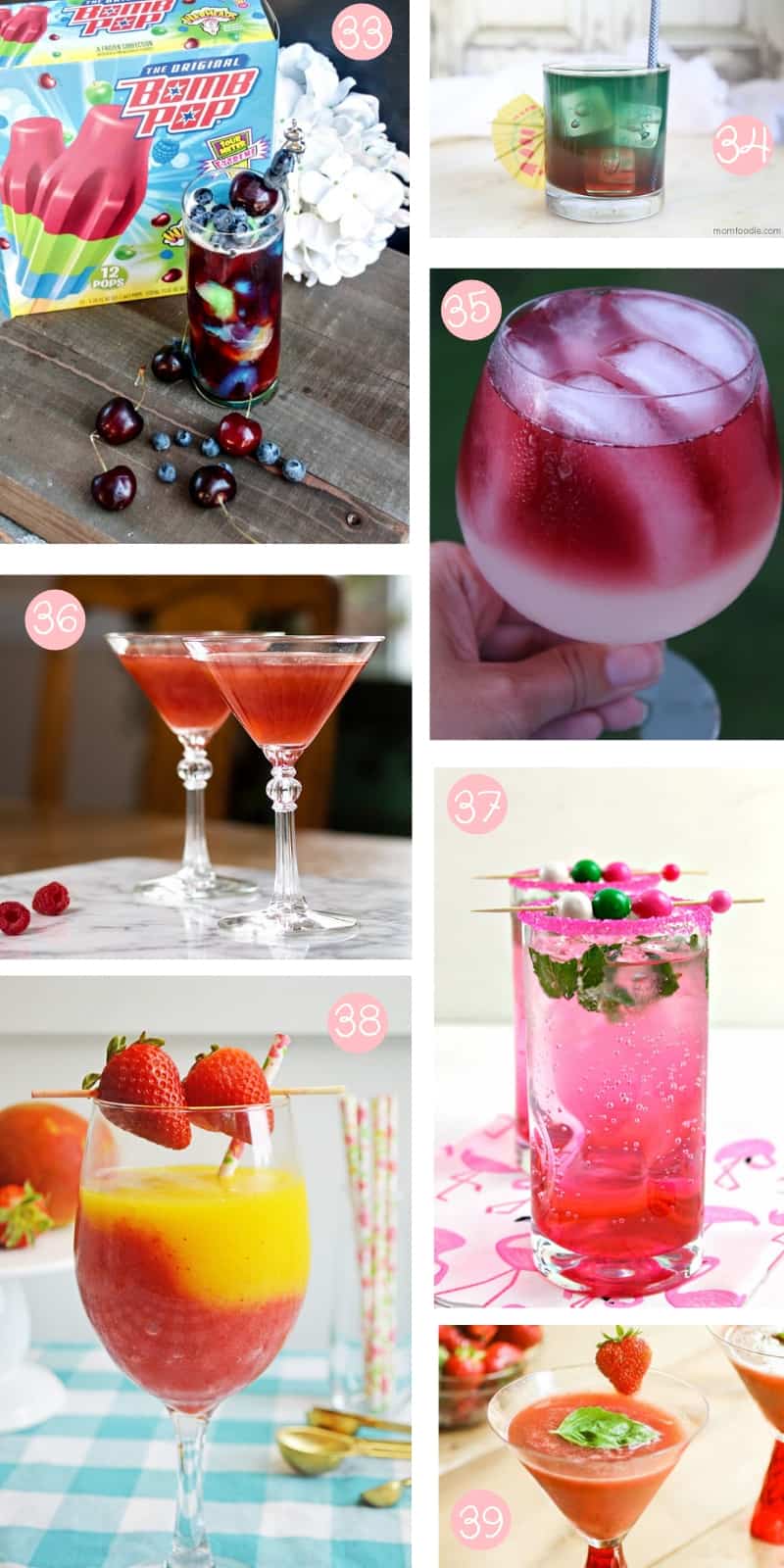 33.Bomb Pop Slushy Cocktail (via A Magical Mess)
A throwback to my younger days! How fun is this bomb pop slushy cocktail?
34. Shark Bite Drink (via Mom Foodie)
I love the two layer look of this drink and the flavors will give you a nice bite!
35. Call me a Cab Vodka Lemonade Wine Cocktail (via Having Fun Saving & Cooking)
This name cracks me up! That being said, the drink looks amazing!!
36. Vanilla Raspberry Martini (via Sidewalk Shoes)
Shaken, not stirred. I have always wanted to say that! This vanilla and raspberry martini will make you fill every bit as important as James Bond!
37. Bubble Gum Mojito (via Kimspired DIY)
Another great drink that will make you feel like a kid again!
38. Mango Strawberry Daiquiri (via Three Little Ferns)
Three Little Ferns also has a great mango strawberry daiquiri that you should try this summer! Refreshing and delicious.
39. Frozen Strawberry Basil Margarita (via Dizzy Busy & Hungry)
This is another great margarita using basil and strawberries! YUM!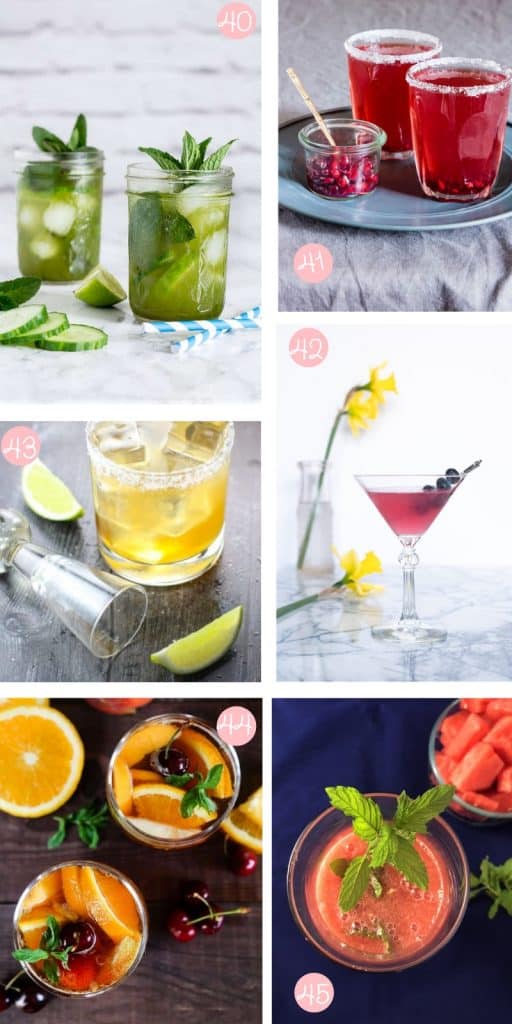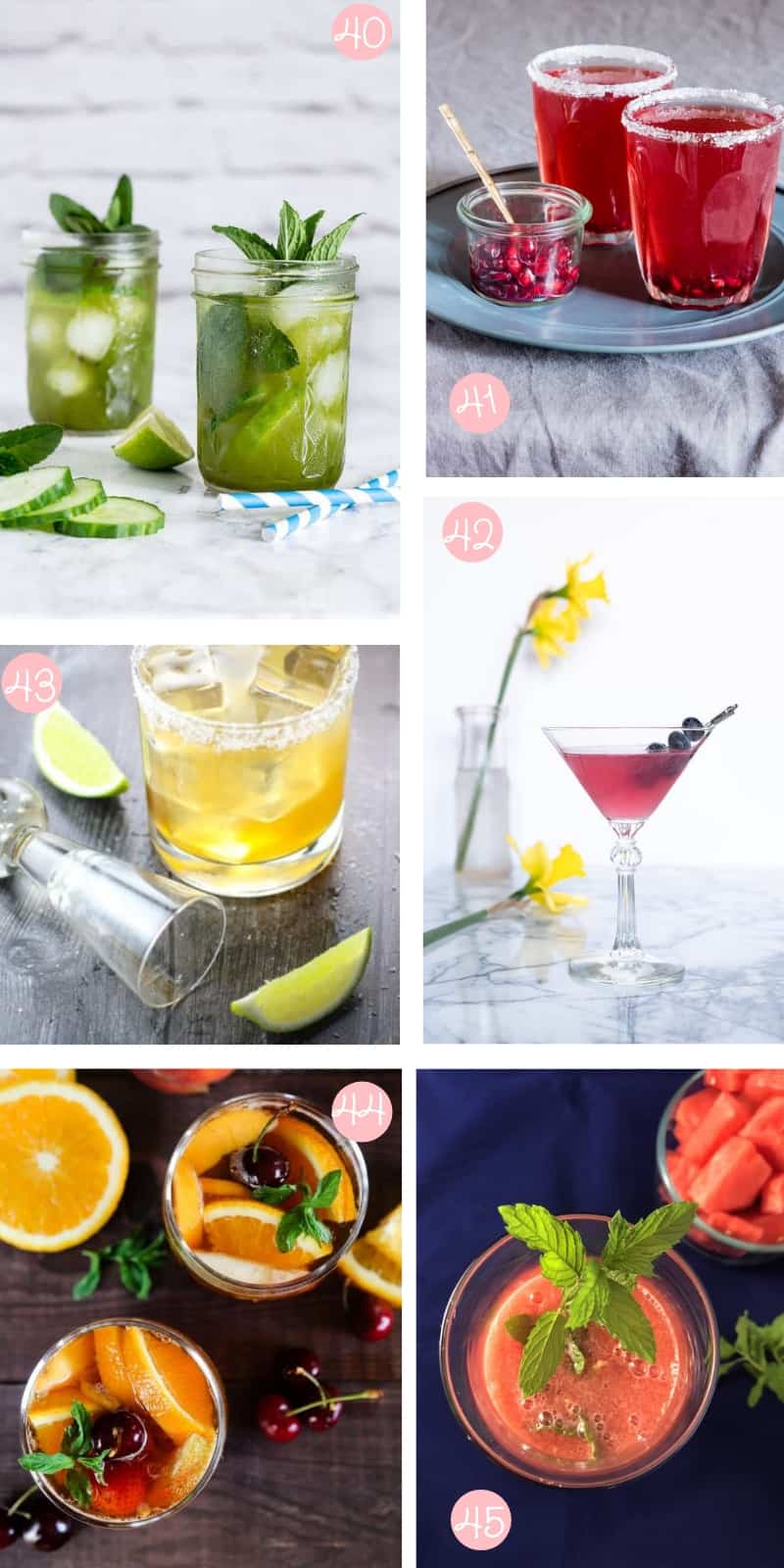 40. Matcha Cucumber Cocktail (via Recipes from a Pantry)
Any green tea fans? This is a spiked version that is divine! Definitely check out Recipes from a Pantry and all their amazing recipes and drinks.
41. Pomegranate Martini (via Recipes from a Pantry)
Another great drink recipe by Recipes from a Pantry is their Pomegranate martini. It has such a wonderful flavor!
42. Blueberry Elderflower Martini (via Sidewalk Shoes)
This looks like another fun and fruity drink to try out this summer!
43. Cadillac Margarita (via Become Betty)
You have heard of a Margarita, but a cadillac margarita takes things to a whole new level!
44. Pimm's Summer Cocktail (via Little Sunshine Kitchen)
I've actually never tried Pimm's but am eager to try it this summer because it looks amazing!
45. Spiked Agua Fresca (via Son Shine Kitchen)
The last great drink is by Son Shine Kitchen, and it's bursting with watermelon and lime flavor!
___________
Wow, that's a lot of new drinks to try! Which one is your favorite? Leave a comment below!
Also, I would like to thank all the amazing bloggers who helped contribute to this list. You have surly given me a lot of new drinks to try this summer!
P.S. make sure to Pin this to Pinterest!