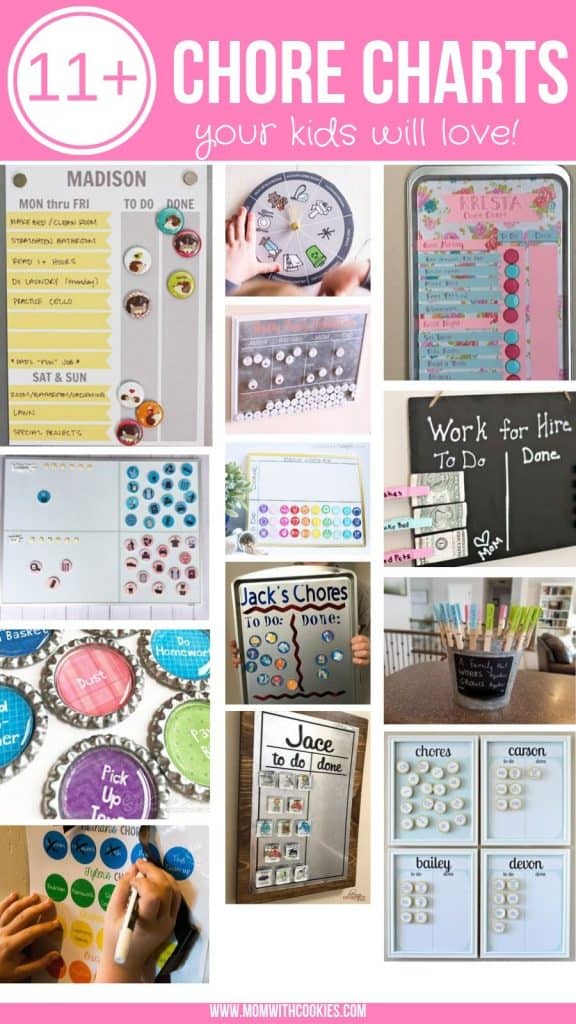 Chore charts are great for teaching kids about responsibilities. It's like a visual to do list that kids just LOVE.
The great thing about these chore charts is that they are all DIY.
​WHAT CHORES SHOULD BE ON MY CHORE CHART?
​​It all depends on their age! You can find a complete list of age-appropriate chores here.
​​​THE BEST DIY CHORE CHARTS FOR KIDS
1. Chore chart with magnetic shrinky dinks
This first one is from Making Things is Awesome. She has some of best crafts and creations including this chore chart.
This is something that your kids would enjoy helping you with!
This next one is from Step Momming. She uses old cookie sheets and transforms them into the fun chore charts!
3. Chalkboard "Money for Chores" Chart
Sunny Day Family also has a great DIY option especially if you like chalkboards! This is great because it shows kids exactly what they will earn for doing specific chores.
This creative idea came from Sweet Frugal life, and is absolutely charming! ​I love that she personalizes the bucket with a special saying for why her kids should help.
5. DIY magnetic chore chart with Cricut
If you have a Cricut, this next one from Clarks Condensed is for you! She shows you how to cut magnetic paper in your Cricut as well as how to assemble everything.
6. Customizable chore chart with printable
This is another fun chore chart that you can customize. Just head over to Half-Scratched and get your free printable!
7. Easy kid's chore chart spinner
Have you ever thought about making a chore chart spinner? Spaceships and Laser beams created this chart so that she could let her boys do the deciding on what chores they do!
This one from Mommy Convos is probably one of my all-time favorites, especially because they use Velcro adhesives to hold it on the wall! GENIUS!
​​There are images and words on the magnets, so there's no confusion!​​​
9. DIY bottle cap chore magnets
These DIY magnets are from Carla Schauer Studio, and are absolutely amazing! I love the fun colors and using bottle caps is a great way to recycle.
10. Colorful magnetic chore chart
This bright and colorful DIY chore chart is from Somewhat Simple. She uses a whiteboard to make this chore chart and the magnets are absolutely FUN.
Any Chip and Joanna Gaines fans out there? If so, you will LOVE this farmhouse style chore chart from Being Genevieve. With the galvanized sheet metal, and the wood, this is definitely a fun and unique way to get your kids to do chores!
I love the simplicity of this chore chart from A Mom's Take. Kids can just mark off what they have done, and then wipe it clean again for the next day!
13. Framed ​magnetic chore charts
This framed chore chart is another fun idea from Lemon Squeezy Home. The design is fun and the colors are just right!
I really love the touch of the frames, because they look quite elegant.
​​Thank you to all the bloggers who contributed! This is definitely the best list of DIY chore charts.
​​Which one is your favorite? Leave me a comment below!
Other Articles you might enjoy: