Beaker Creatures Lab Review
When I first saw the Beaker Creatures Lab, I immediately knew this looked like a great educational gift! It's also why I included it in my list of science gifts here.
Now, in an effort to fully disclose, I want to let you know that I received this Beaker Creaturs Lab for free, but this review is my honest opinion. This article also contains affiliate links, which means if you purchase something, I would receive a commission. For more information see my Disclosure page.
Now back to the Beaker Creatures Lab Review:
Beaker Creatures Lab Review: What's included?
So, when you unpack the Beaker Creatures Lab kit, it will contain 2 plastic beakers, a stirring stick, tongs, 2 reactor pods filled with a creature, reactor with 2 syringes, and also some fun literature about the beaker creatures.
Beaker Creatures Lab Review: Setup
The beaker creatures lab set up is quite easy, which is a definite perk if you are as excited to try it as my daughter and I were! You click the 2 cylinders with the syringes into the reactor plate.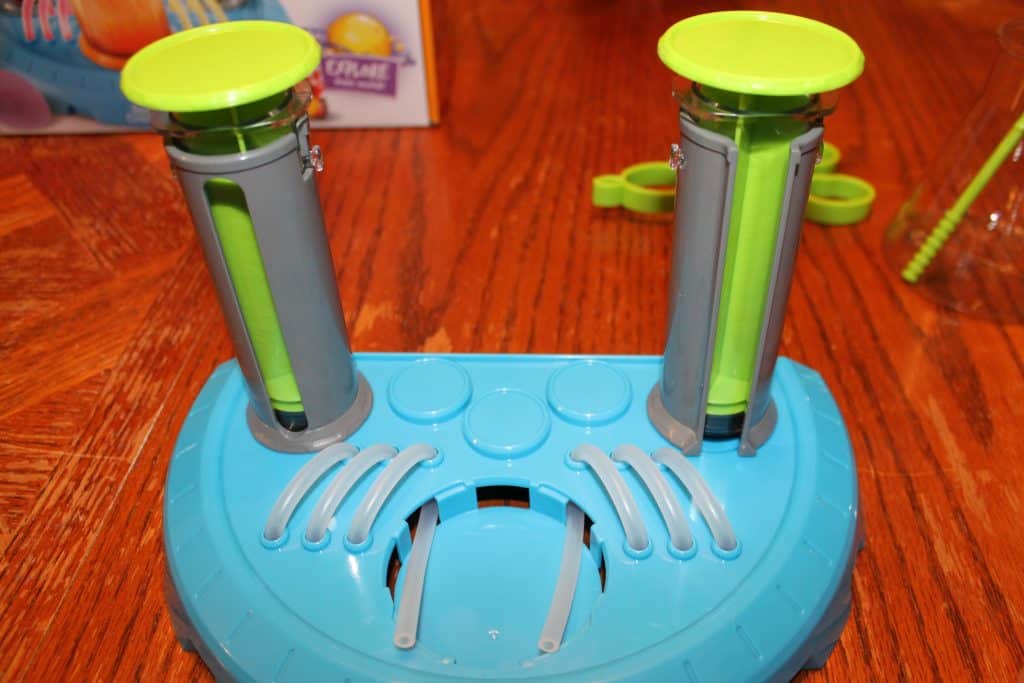 Then you need to hook up the tubing to the main reactor cylinder (see photos below). Test it out first to make sure that the tubing doesn't get kinked, or you will have a hard time pushing liquid from the syringes to the main reactor container.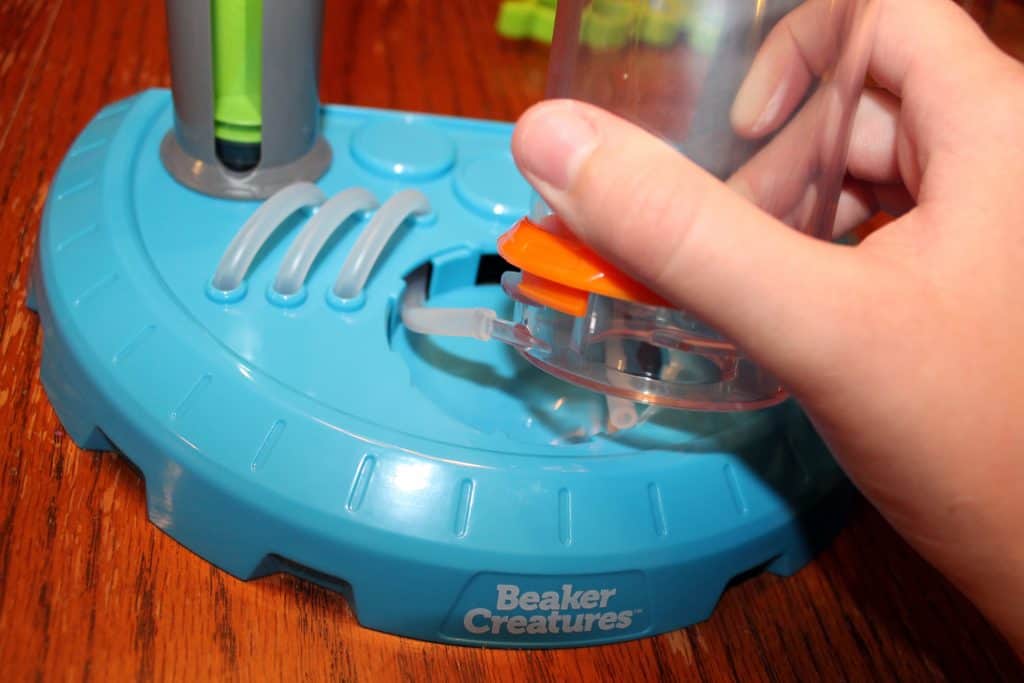 Beaker Creatures Lab Review: Experiments
Experiment 1
There are actually a few different experiments you can do with this Beaker Creatures Lab set. The first thing you can do is to place the colored reactor pod into the main cylinder and then you fill the syringes up with water. Simultaneously, you press the syringes down and then the reactor pod will start to fizz and dissolve.
When the fizzing stops, you should be able to use the tongs provided and reach in to grab the container that will be in the liquid. Open it up, and see what is inside! You can use the provided list of creature to narrow down what you have.
From this Beaker Creatures Lab Review of this experiment, your child is learning about reactions, observations, and classifying their creatures and determining what they are.
With the products provided, you can do this experiment twice! Not only that, you can purchase more reactor pods
and collect all the different kinds of Beaker Creatures.
Experiment 2
Another fun experiment you can do with this kit is to fill your syringes up with different colored water. Then, your child will press the syringes down at the same time and it will fill the main reactor container with the colors. What's cool about this, is that you can see how the colors change when you mix them together.
Experiment 3
The third experiment you can do is add baking soda to the main reactor container. Then, fill the syringes up with green-colored vinegar (it's colored green so you can really see some effects). Then, like before, have your child press the syringes down simultaneously.
As the green-colored vinegar mixes with the baking soda, the solution will begin to fizz and bubble up.
Experiment 4
The fourth experiment is to add olive oil or canola oil to the main reactor container. Then, fill the syringes with water or even a colored water. As the water gets pushed into the contain with the oil, your child can start to see the change that happens in that oil and water do not mix.
Beaker Creatures Lab Review: Where to buy?
A Beaker Creatures Lab review could not be complete without know where you can buy it! This fun Beaker Creatures Lab kit is available here on Amazon
.
You can also purchase it directly from The Learning Resources website.
My final opinions of this Beaker Creature Lab Review is that it is a fun and education toy. It can be a little messy at times, but nothing a towl can't wipe up. Getting to watch liquid flow from the syringe into the reactor container is really cool, but moreso when you use water that is colored with food coloring.
There you have it! What do you think of this fun and exciting science gadget? Leave a comment below and let me know! Thanks for reading this review, if you have a minute please share it so more parents can read about this exciting and educational toy!!